SAVE THE DATE FOR ILLUMINATION 2022

Help us launch into our next 65 years by saving April 9, 2022, on your calendar! Assets School's annual fundraiser Illumination 2022 will be entering its second year of exclusively dedicating all funds raised toward tuition assistance due to the pandemic.
Your support throughout last year helped us to provide more than 100 scholarships to students who need an Assets education. We are truly grateful!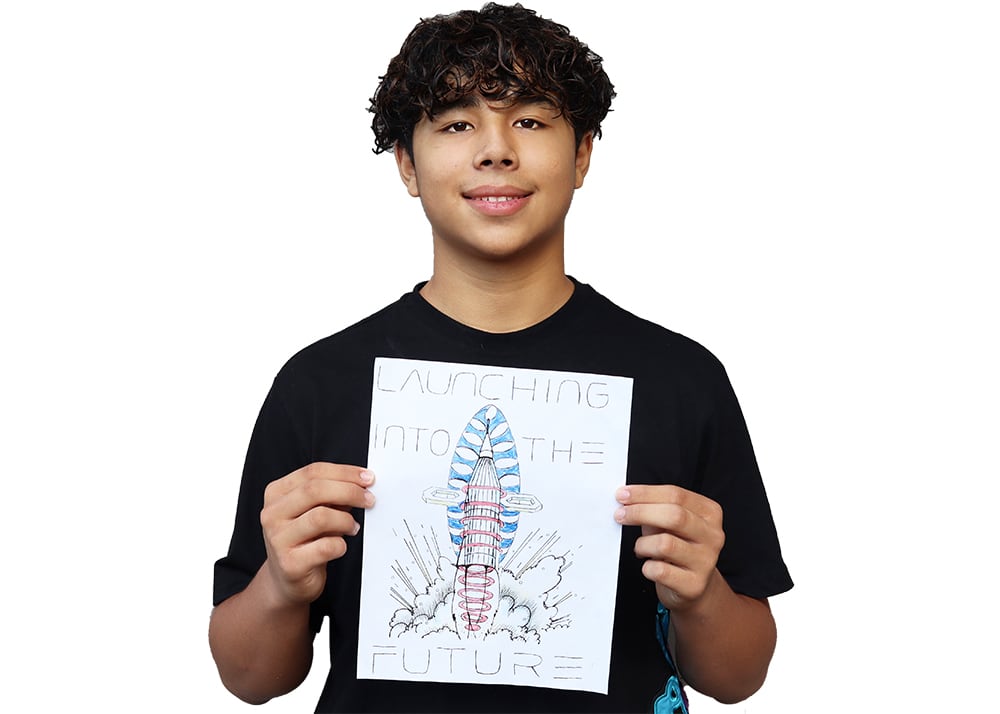 Mahalo nui loa to Assets student Talan '23 for embracing our next 65 years theme in his Visual Arts class. Talan designed our futuristic rocket.
We are planning a hybrid approach to Illumination 2022 and have your health and safety top of mind. Like last year, we are offering sponsorship opportunities at the Admiral (school mascot) level of $10,000 to the Bronze level of $500, with a restaurant selection of your choice. Additionally, we are planning an in-person event on April 9, 2022, and will continue to monitor gathering guidelines as the date draws closer. As with every year whether in-person or virtual, we will have our outstanding auction led by volunteer auctioneer Eric Schiff.
If you would like to help us with the event or would like to donate an item, trip, or an experience, please call (808) 423-1356. If you are interested in a sponsorship or learning more about our in-person event, please contact our Vice President of Institutional Advancement Linda Jameson Myers at (808) 440-3605 or lmyers@assets-school.org We appreciate your patience as we navigate the pandemic.
ASSETS LAUNCHES ITS FIRST MIDDLE SCHOOL ROBOTICS TEAM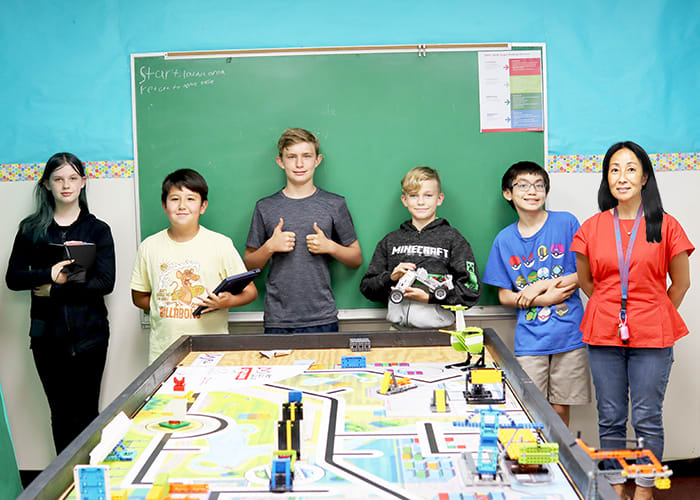 K-8 Robotics team members: Maddie W., Judah C., Evan K., Kingston H., and Aiden M. (with teacher, Emi Hagiwara)
We are excited to announce our first Robotics team in our K-8 Program. Middle School students are participating in the FIRST® Lego League Challenge this year.
This robotics program is geared towards students nine to sixteen years old and teaches them to program, build, and work with a team while having fun and exploring the world of Science, Technology, Engineering and Math (STEM). Students are introduced to real-world problems for which they are expected to create a solution.
Students learn to compete with FIRST® core values displaying gracious professionalism and cooperation. According to the FIRST® Lego League website, "Team members learn life skills, such as respect for others, appreciation of different perspectives, cooperation, perseverance and time management. As a result of the FIRST® Robotics experience, participants gain confidence, discover new skills and interests, and shape their futures—as they, in turn, shape ours."
District Tournaments will take place during the last two weeks of January 2022 and the State Tournament is scheduled for the last week of February 2022.
Follow us on Instagram and Facebook to get updates on their progress and help to cheer on this team of bright and engaged #GreatMinds!
K-12 ADMISSIONS OPEN HOUSES ON SUNDAY, OCTOBER 24

Please join us later this month for our first round of Open Houses! We invite everyone who is interested in learning more about our K-12 programs.
Assets School is a place where our students are recognized and celebrated in a nurturing environment. Do you know any families that might benefit from our specialized and life-transforming program? Encourage them to register in advance for our Admissions Virtual Open House on Sunday, October 24, 2021.
Our High School session begins at 9:00 a.m. and includes information about our mentorship and college and career engagement programs. We are sharing information about our K-4 program during our 12:00 p.m. session and Grades 5-8 during our 2:30 p.m. session. All attendees will be provided with a program overview, virtual tour of the campus, and there will be a question-and-answer panel featuring current parents and students. Visit our website for more details and please remember to register!
Canʻt make it on October 24th? Our next session is on Sunday, November 21, 2021
Kindergarten - Grade 4 (8:30 a.m. - 10:00 a.m.)

Grade 5 - Grade 8 (11:00 a.m. - 12:30 p.m.)

High School (1:30 p.m. - 3:00 p.m.)
OCTOBER IS DYSLEXIA AWARENESS MONTH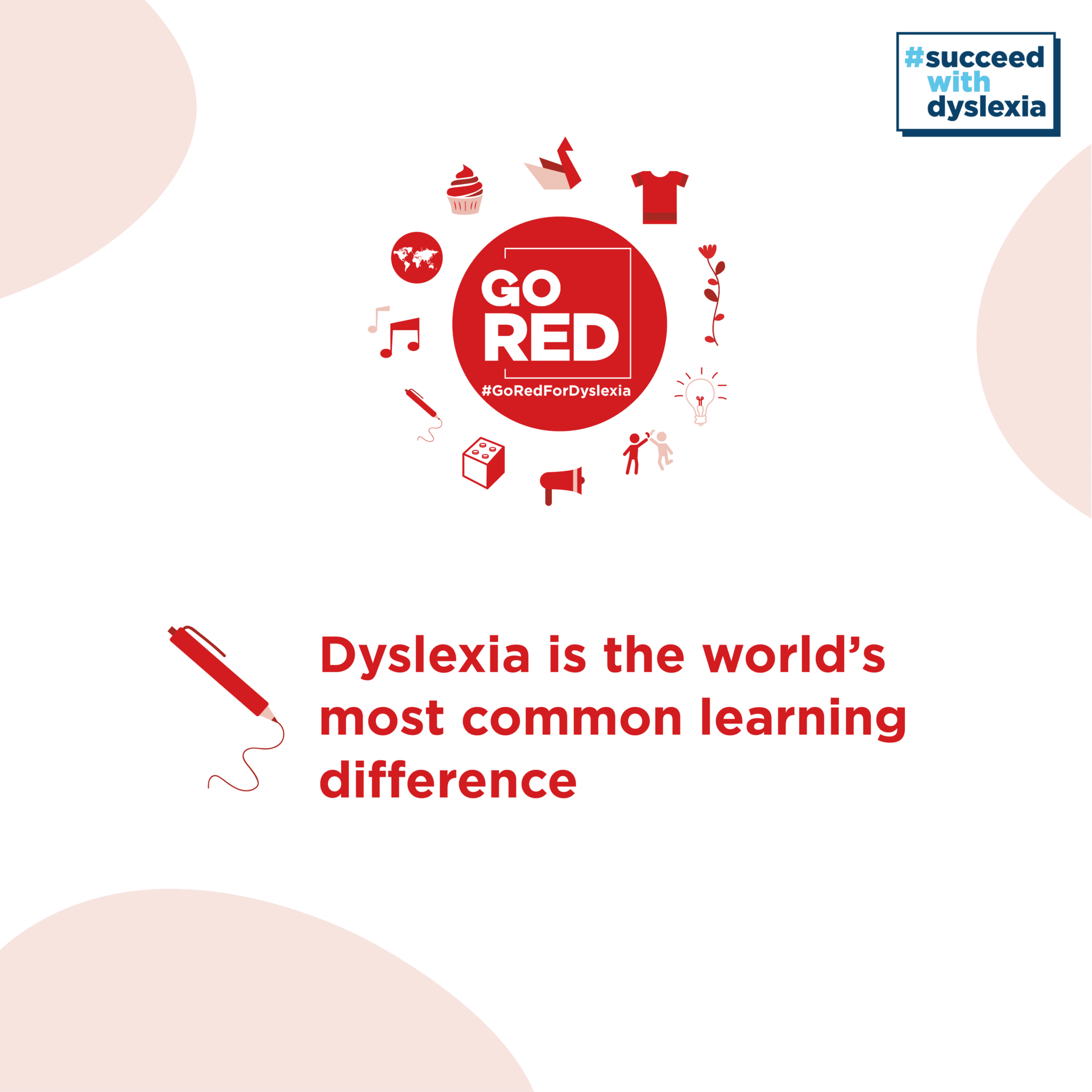 October is #DyslexiaAwarenessMonth! Did you know that dyslexia is the most common cause of reading, writing, and spelling difficulties? It's much more common than you think. In fact, 15-20% of the population has a language-based learning disability. And of the students with specific learning disabilities receiving special education services, 70-80% have deficits in reading.
To learn more about resources available in Hawaii, visit the website of the Hawaii Branch of the International Dyslexia Association (HIDA) https://hi.dyslexiaida.org/