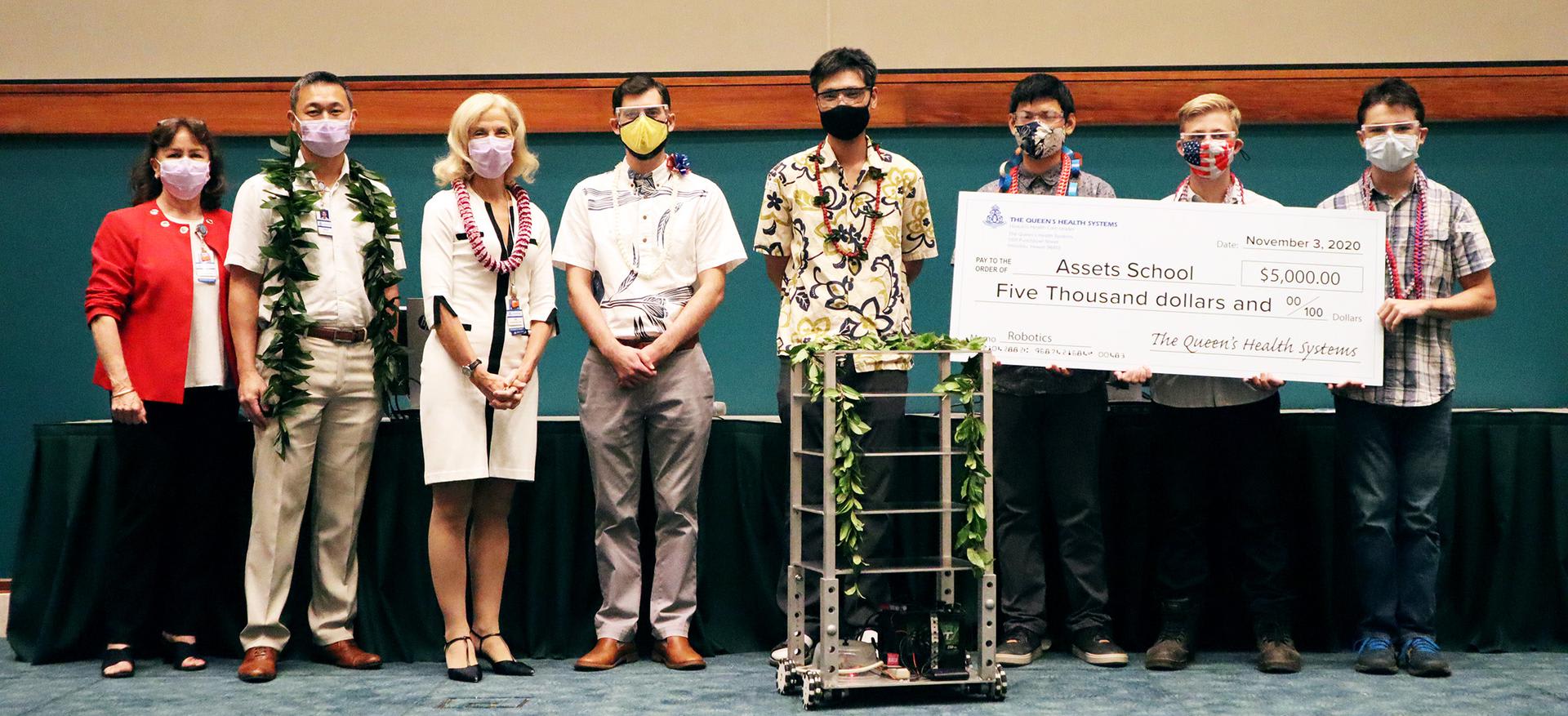 The Queen's Health Systems Chief Nursing Officer Mimi Harris, The Queen's Medical Center President and The Queen's Health Systems Chief Operating Officer Jason C. Chang, The Queen's Health Systems Chief Executive Officer Dr. Jill Hoggard Green, Assets Head of School Ryan Masa, Assets Teacher and Robotics Coach Peter Han, William Wong '22, Owen Burke '22, and Christopher Noon '22 take part in a historic day for Assets as students deliver a medical assistant robot to the hospital then were surprised by a generous donation.
ASSETS ROBOTICS STUDENTS PRESENT FOOD DELIVERY ROBOT
TO THE QUEEN'S MEDICAL CENTER
A team of three high school students, with oversight from their Assets robotics teacher Mr. Peter Han, has been designing a food delivery robot since June. This student-led project was masterminded by Owen Burke '22, Chris Noon '22 and William Wong III '22 and was delivered on Tuesday to The Queen's Medical Center.

"This isn't just a robot," said Mr. Han. "This is a lesson in humility, hard work, and collaboration. I'm extremely happy for this project to happen and that we do what we can as STEM learners to contribute to our local community."

The Queen's Health Systems CEO Dr. Jill Hoggard Green applauded the students' efforts: "To bring the robot to where you did shows such intelligence, such creativity, and the tenacity--the ability to stick with something that is difficult. When I look to our future leaders, our future physicians, nurses, our technologists, our IT experts, our engineers that build the technology that keeps people well, it is exactly what you did which will make you the great new leaders of the future."

Assets Head of School Ryan Masa expressed the school's gratefulness and said: "We cannot thank The Queen's Health Systems leadership team enough for this generous donation. We appreciate the good work that The Queen's Medical Center and all frontline medical professionals are doing to keep our community safe and healthy. I am so proud of Owen, Chris, and William. Their project represents what makes Assets such an incredible school community - creative students, authentic experiences, individualized learning, developing your strengths and using them to imagine a better future."

As a surprise finale, Dr. Hoggard Green presented the students with a donation of $5,000 to our robotics program on behalf of The Queen's Health Systems.

We are humbled by The Queen's Health Systems' generosity and honored by the leadership team's expression of gratitude. We are grateful for the continued support of our faculty and families. We are inspired by our students' initiative, their utilization of critical thinking skills to power through this project and the ingenuity that led to this amazing creation!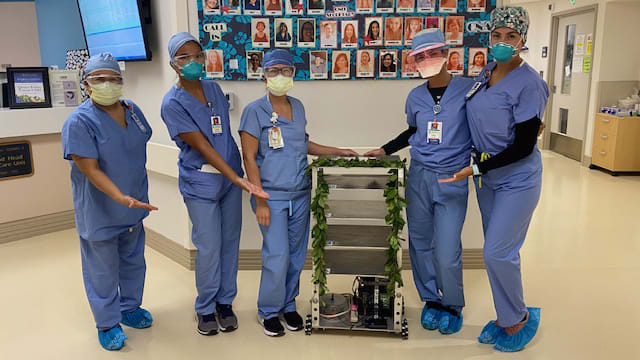 The Queen's Health Systems shared this wonderful photo with Assets. The plan for the robot is for it to be implemented in Queen's new Advanced Respiratory and Emerging Infectious Disease Unit.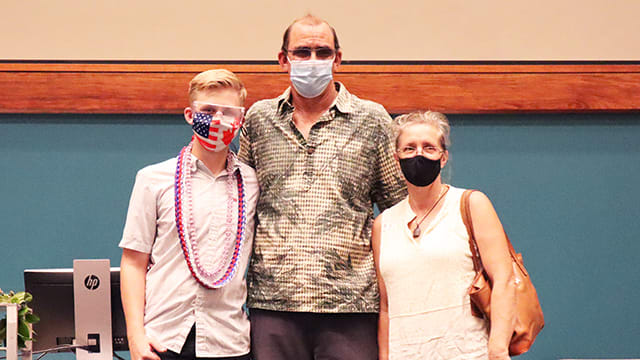 Owen,Tom and Christine Burke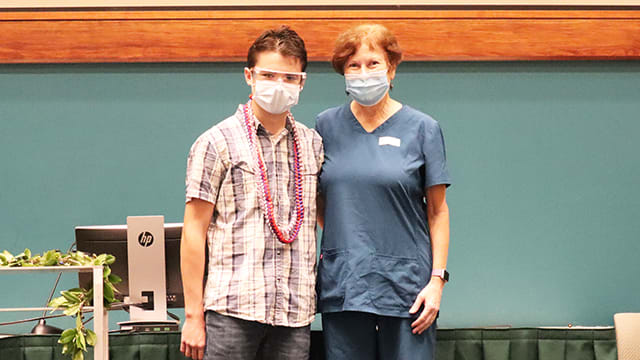 Christopher Noon and Dr. Maria Markarian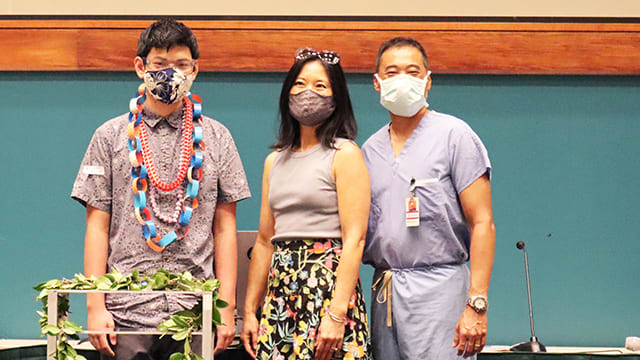 William, Kerri and Dr. William Wong, Jr.

Second-grader Sam '31 graces the front panel of our 2020 Annual Fund Appeal. We wish we could feature all of our students but we know the sentiment is the same: A giving heart educates a grateful heart.
MESSAGE FROM VICE PRESIDENT OF ADVANCEMENT
LINDA JAMESON MYERS
For the first time in Assets' 65 years, we have created Grateful Minds Giving Tuesday and are holding this on the Tuesday before Thanksgiving. Fundraising is critical this year to help our keiki stay at the school that has transformed their lives and has provided them a caring and nurturing environment. As a young school, our endowment is low, so we rely on thoughtful donations from those who believe in our mission, foundations, and support from organizations like The Queen's Health Systems.
We are always actively fundraising and grateful to a special family who is helping us launch a match. An Assets family donated $6,500 in honor of our 65th year and is challenging others to donate with a 6 and 5 in the donation-- for example: $65, $165, $1,065, to $6,500 or more! The 6 and 5 can even be in cents like $10.65, $25.65 or $50.65 etc. Every donation makes a difference in the life of an Assets student.

You may have heard of the national movement of Giving Tuesday on the Tuesday following Thanksgiving. On that day, it will be Assets Giving Back Tuesday. We are going to give canned food items, rice, and other key staples from our K-12 food drive. We will be collecting the items in each class beginning on Monday, November 9 through November 30. On December 1, we will deliver the food to the Hawaii Foodbank.
We thank you in advance for supporting our efforts to raise funds for financial aid and the school's greatest needs, as well as supporting our food drive. Feel free to contact me at 808-440-3605 or by email at lmyers@assets-school.org if you have any questions. Wishing you and your family a joyous and safe giving season.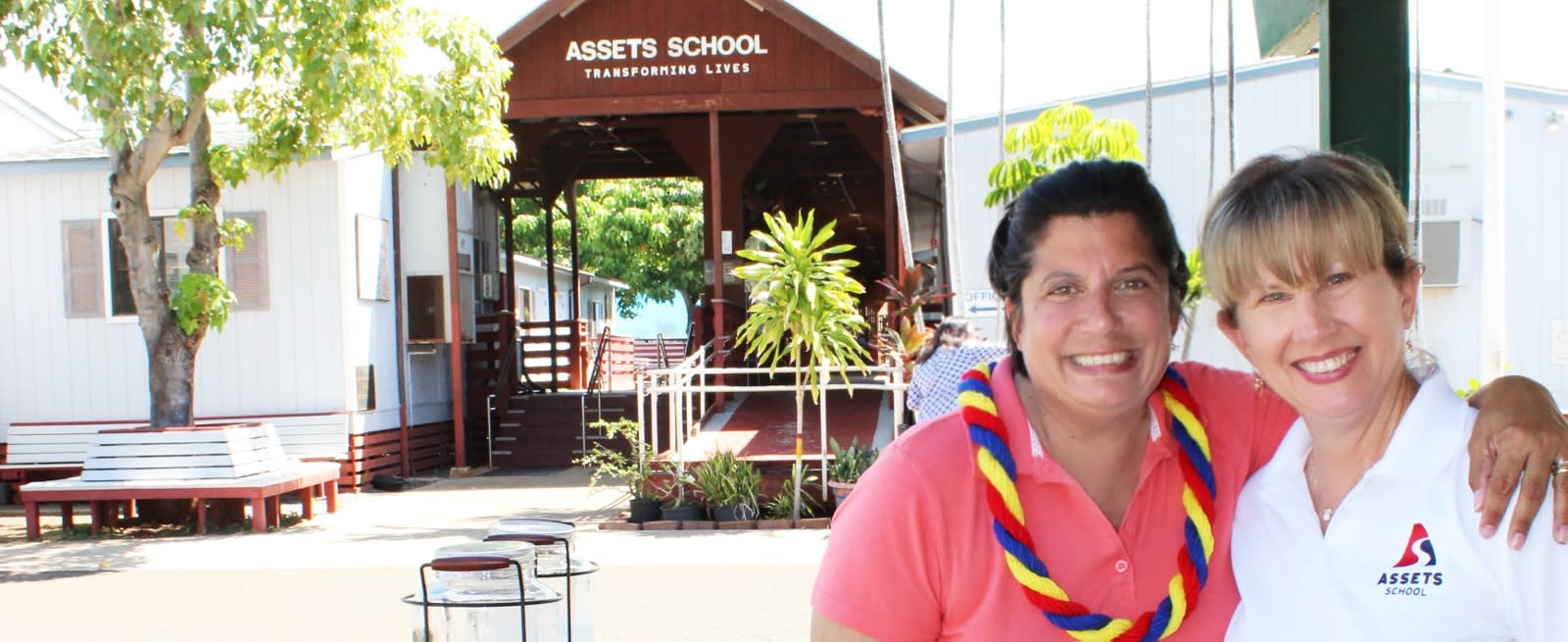 STAYING CONNECTED - ASSETS AMBASSADORS ENGAGEMENT SURVEY
Assets Ambassadors are what you may liken to being a member of a Parent Association except due to the current pandemic, we are trying a new concept to remain engaged with our Assets families and offer meaningful opportunities.
If you are interested in being involved, please click here and complete our Google Survey.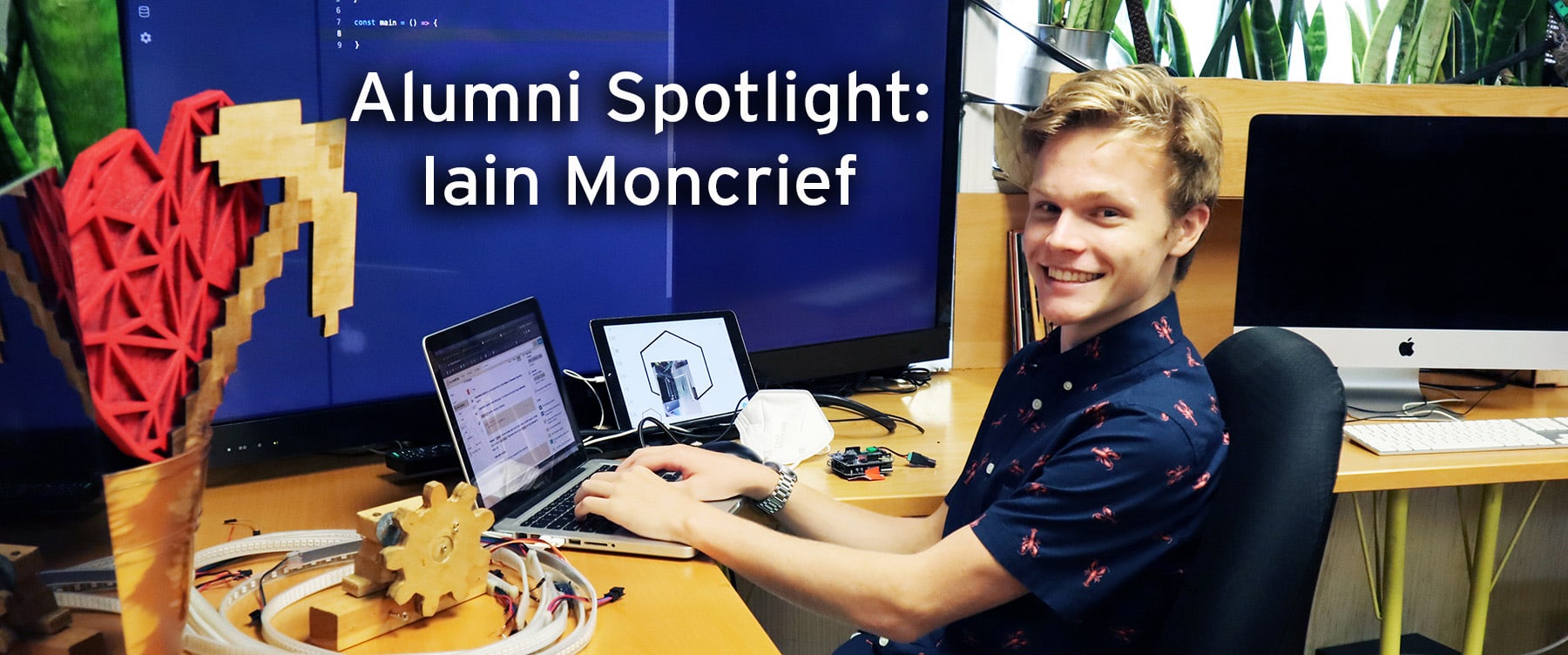 Iain Moncrief '20 had a keen interest in technology from the young age of three. Iain's early influence in tech can be attributed to his grandfather who showed him how circuit boards and other electronic devices worked. After joining Assets in the fourth grade, Iain continued to explore his interests and began coding in the seventh grade using AppleScript. While many faculty members, past and present, were instrumental in his learning, he gained incredible support and hands-on experience through his involvement in Robotics with Mr. Peter Han and through his mentorship program with our K-8 Technology Specialist Dr. Jon Pennington.

"Assets also played a role in encouraging my interests by providing me the time to take Computer Science courses at Windward Community College while attending high school," Iain said.

After graduating from Assets this year, Iain began learning about the structures and types of programming languages. "I decided that I wanted to design my own language and spent a few months learning about Category Theory, Parsers and Lexers, Abstract Syntax Trees, and ways that computers can turn high-level-languages into 1's & 0's. (Computers operate in binary, meaning they store data and perform calculations using only zeros and ones.) I completed my programming language called "LambdaScript" (it uses the semantic rules from the lambda calculus, a formal system in mathematics) and published the source code on github."

As a side project, Iain has developed some methods and notations for creating mathematical art using parallel computing architectures, and compiled his ideas into a research paper called "Parallel Computation of Discrete Colors".

Iain's passion continues and he is now studying more about Machine Learning (ML).
More of his projects can be found on https://iain.dev.

We are so proud of Iain and his amazing accomplishments! Congratulations, Iain!

Share your stories and photos with us here! https://www.assets-school.org/alumni