WISHING YOU A FANTASTIC FEBRUARY!

ENRICHMENT, LEARNING AND FUN AWAIT OUR #GREATMINDS THIS SUMMER!
Our K-12 summer programs are now posted on our website! Our plan is to provide in-person instruction, adhering to the same health and safety guidelines that have been implemented in our current school programs.
Please visit our website for more information about our K-8 programs and our High School programs.
Registration for existing families will be available in the Parent Portal on February 17! New families are welcome to submit an application online.

CORPORATIONS, FOUNDATIONS AND INDIVIDUALS FUEL ASSETS TUITION ASSISTANCE PROGRAM AND THE 2021-2022 SCHOOL YEAR IS CRITICAL ~ WE NEED YOUR HELP!
Join us in thanking The Queen's Health Systems, Honda Windward, AON Insurance Company, Brown and Brown Pacific Insurance Services, Inc., Finance Factors and the CEOs leading these outstanding companies for being among the first corporate luminaries committing to sponsorships for Illumination 2021, Assets' annual fundraising event.
We are also grateful to an anonymous donor plus a handful of parents and Trustees for their generous monetary donations which will make a dramatic difference in the lives of our students by way of tuition assistance. Nearly 40% of our student population is receiving financial aid and we anticipate this to increase next year due to the pandemic.
We are offering an exciting concept with our sponsorship packages. We created an opportunity for you to have a gourmet dinner at the restaurant of your choice or our four suggested restaurants of MW Restaurant (supports an Assets family), 12th Ave Grill and Deli (supports an Assets family), Chef Chai, and Roy's. Your sponsorship also directly helps students, for whom an Assets education is a necessity. Learn more about being a valued sponsor!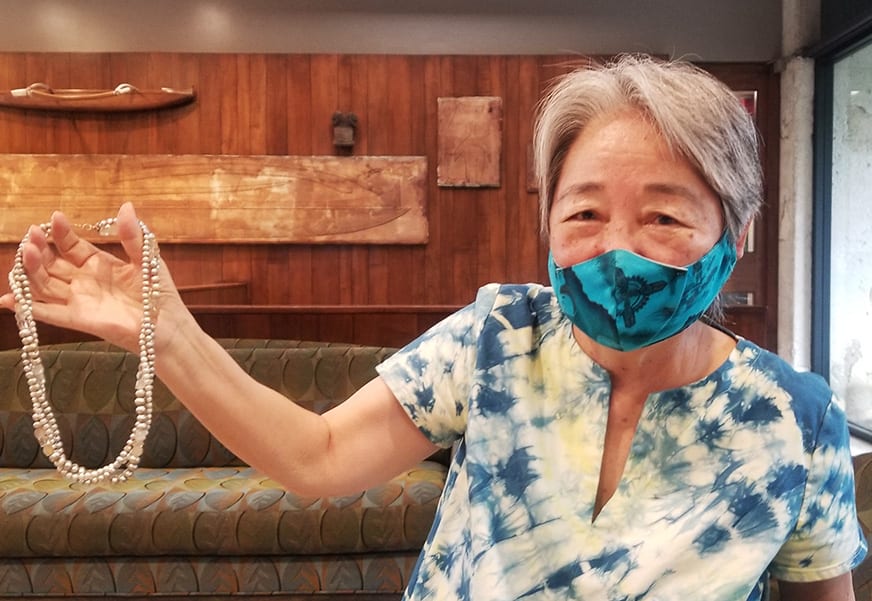 Ann Teruya generously donates to Illumination 2021.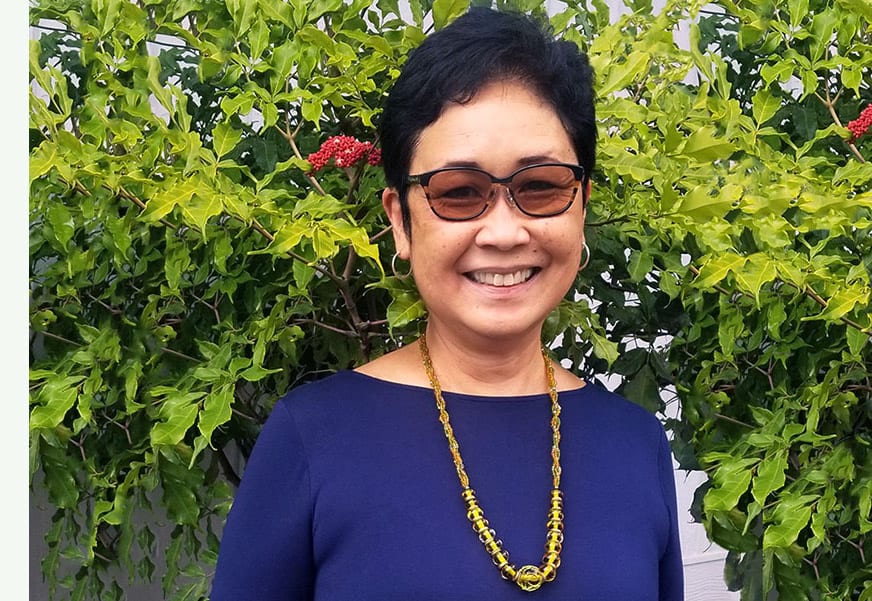 Our Admissions Director and Assistant Head of School Sandi Tadaki takes a break from reviewing applications to show us one of Ann Teruya's last flamework pieces.
JOIN ALUMNAE PARENT ANN TERUYA AND OTHERS BY DONATING
AUCTION ITEMS FOR ILLUMINATION 2021
"We have to take care of the future of Assets School" ---Ann Teruya, Assets Parent of Bethany, Class of 1999
Our gratitude overflows when we are approached by families and friends of Assets wanting to support our virtual auction. This week jewelry maker Ann Teruya, whose daughter Bethany graduated from Assets in 1999, reached out to us and donated a dozen stunning one-of-a-kind necklaces ranging from freshwater pearls to one of her last flameworking pieces. At 68, Ann is busy making freshwater and quartz necklaces and bracelets but stopped flameworking a few years ago which she did from the comforts of her garage/artist's studio.
Why does Ann give back? "We have to take care of Assets School," said Ann. "My daughter has dyslexia and at a traditional school your child is trying to fit one mold. At Assets, her teachers found what she was good at and nurtured her. She enjoyed going to Assets unlike other schools. We are thankful that Assets taught my daughter strategies and prepared her for college." Bethany attended Pacific University and is now happily living in the Netherlands with her husband. In addition to seeing Ann's beautifully created pieces at our April 2021 Illumination virtual auction, her gorgeous jewelry is also featured at Louis Pohl Gallery on Oahu.

The auctions at our past Gala events have always been a big draw and a fun way to help us raise funds for financial aid. This past year, we held our first virtual auction that created an opportunity for people within and outside of our community to participate. This year, the reach will be even further as we promote our virtual event across Hawai'i and beyond. If you own a business or know someone who does, this is an amazing way to receive promotion while also helping a very worthy cause.
All of the funds raised will support tuition assistance to help our families in greatest need. Your donation will create recognition, bring customers into your place of business, and may be tax-deductible.
Items that have created buzz in the past include:
Jewelry and artwork valued at over $100

Rare and vintage bottles of wine

Experiences such as hotel stays, private parties, wine making, golf, sailing, scuba lessons, horseback riding and other outdoor activities

Dining gift certificates to hot restaurants

Signed or Sports memorabilia

Musical instruments such as keyboards, 'ukulele and guitars

Services such as auto detailing, music lessons, photography sessions, jewelry making, private chef, personal trainer, house cleaning or pet sitting
Let's get creative! Gather your friends and family and create a gift basket! How about a camping basket with a 4-person tent, cooler, beach chairs, insulated mugs, and a barbecue grill? Or how about a beach basket with boogie boards, snorkels and masks, fins, beach towels, floats and a beach umbrella? Have a special skill and are willing to share it? Donate your time. The possibilities are endless!
Donations can be dropped off at our school offices or contact us to arrange for pick up.
Mahalo for your continued support of Assets School!
Contact Linda Jameson Myers at lmyers@assets-school.org or at (808) 440-3605 if you have any donation/sponsorship questions.
Please contact Communications Director and Parent Relations Liaison Mahea Nakamura at mnakamura@assets-school.org or at 440-3605 if you are interested in being a volunteer. Our next volunteer meeting is February 23, 2021.

K-12 ADMISSIONS OPEN HOUSES ARE SATURDAY, FEBRUARY 27
Please join us for our second round of 2021 Open Houses! We invite everyone who is interested in learning more about our K-12 programs.
Assets School is a place where our students are recognized and celebrated in a nurturing and caring environment. Do you know any families that might benefit from our specialized and life-transforming program? Encourage them to register in advance for our Admissions Virtual Open House on Saturday, February 27, 2021.
We are sharing information about our K-8 program during our 9:00 a.m. session. Our High School session begins at 12:30 p.m. and includes information about our college preparatory engagement and mentorship programs. Attendees will be provided with a program overview, virtual tour of the campus, and there will be a question-and-answer panel featuring current parents and students. Check our website for more details and please remember to register!

TRANSFORMING LIVES BEYOND THE ASSETS SCHOOL CAMPUSES
As we celebrate the history of Assets School, we honor one of our key faculty members who has been an incredible resource and positive influence over the past 39 years.
Through her tenure with Assets, Darlene Robertson has bestowed her skills and wisdom as a teacher, curriculum specialist, program director, administrator, teacher trainer, and for the past 15 years, Director of Professional Development and Outreach which includes the Assets Teacher Training and Outreach Program (ATTOP). Her professional certifications from the International Dyslexia Association, Slingerland Institute of Literacy, Association of Orton-Gillingham Practitioners and Educators, All Kinds of Minds, and Mortensen Multisensory Math lend to the wealth of knowledge and expertise that she continually shares with us.
ATTOP was created by the Assets Trustees in 1999, as part of a plan to give back to the community by helping students and families who needed to but were unable to attend Assets School. The ATTOP program includes a free community early reading screening for primary aged students (up to Grade 3) with individualized feedback for parents; training for educators and parents in learning interventions known to be successful with exceptional learners; and building partnerships with other non-profit schools and organizations that support the needs of at-risk students. Such endeavors help sustain Assets' reputation in the community as a place that comes to mind if questions arise about learning challenges.
ATTOP is fortunate to have many community partners who have collaborated with us in community outreach which includes Kamehameha Schools Community Learning Center in Ma`ili, Hawaii Branch of the International Dyslexia Association, Ka Waihona Public Charter School, and City & County of Honolulu.
While the pandemic has certainly changed the way that we connect with others and has put a temporary hold on our early reading screenings, Darlene has still been able to successfully present her valuable resources via Zoom conferences, with the support of the community. This past summer, she was also able to complete a 4-week Structured Literacy course with Assets teachers through daily Zoom meetings, which provides multi-sensory literacy training using an explicit, systematic, phonics-based approach. Such programs not only aim to assist with teaching in the classroom, but also provide a greater understanding (through research-based studies) of why students struggle and the rationale behind it.
Mahalo to Darlene Robertson for 39 years of service to our community and for the countless lives you have helped to transform!