WISHING YOU A SPLENDID SUMMER!

We are proud and excited to share in the celebration of 34 graduates this year. Commencement ceremonies took place on May 22 at the Kamehameha Schools' Kaʻiwakīloumoku Hawaiian Cultural Center, with a small audience of faculty, staff and parents/guardians. We are grateful for our relationship with Kamehameha Schools and the opportunity to host our graduation at the school's beautiful campus.
In case you missed it, you can watch the YouTube LiveStream on the Assets School YouTube channel: https://youtu.be/19FYsVLdg8Y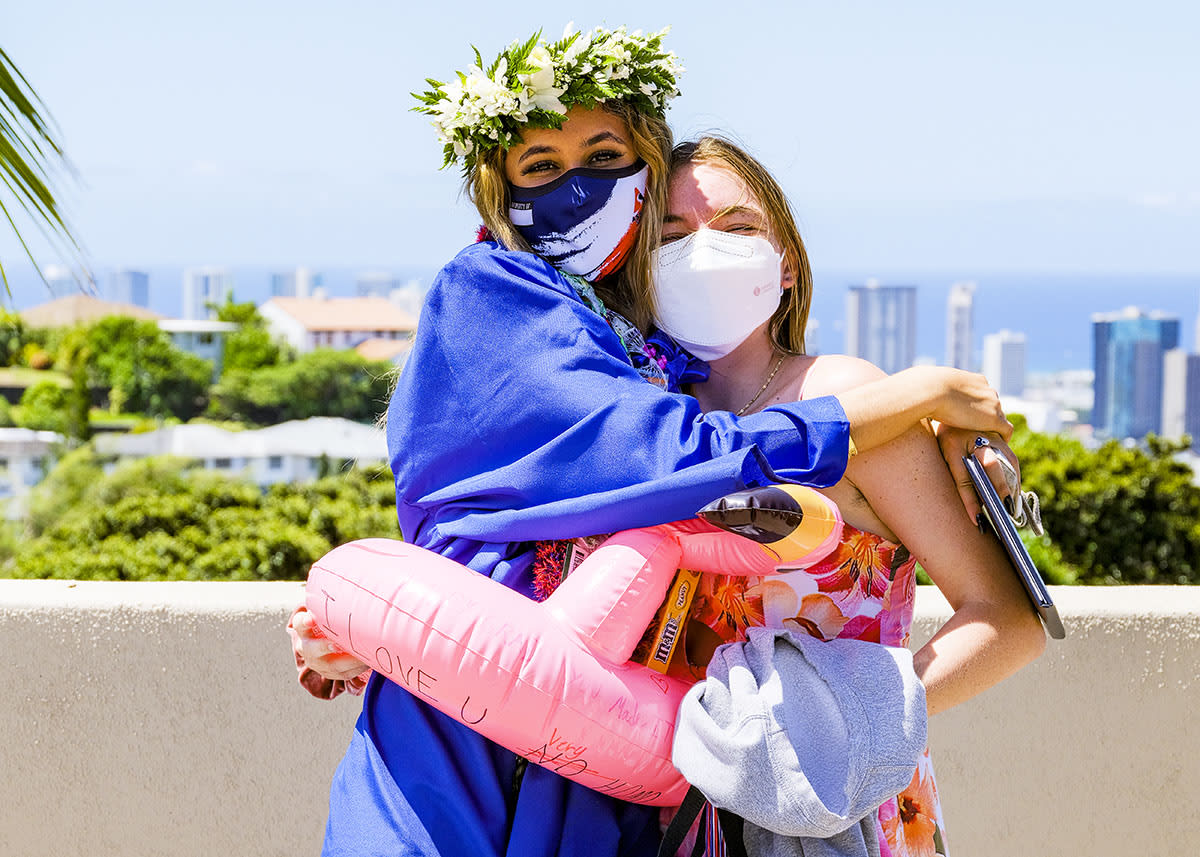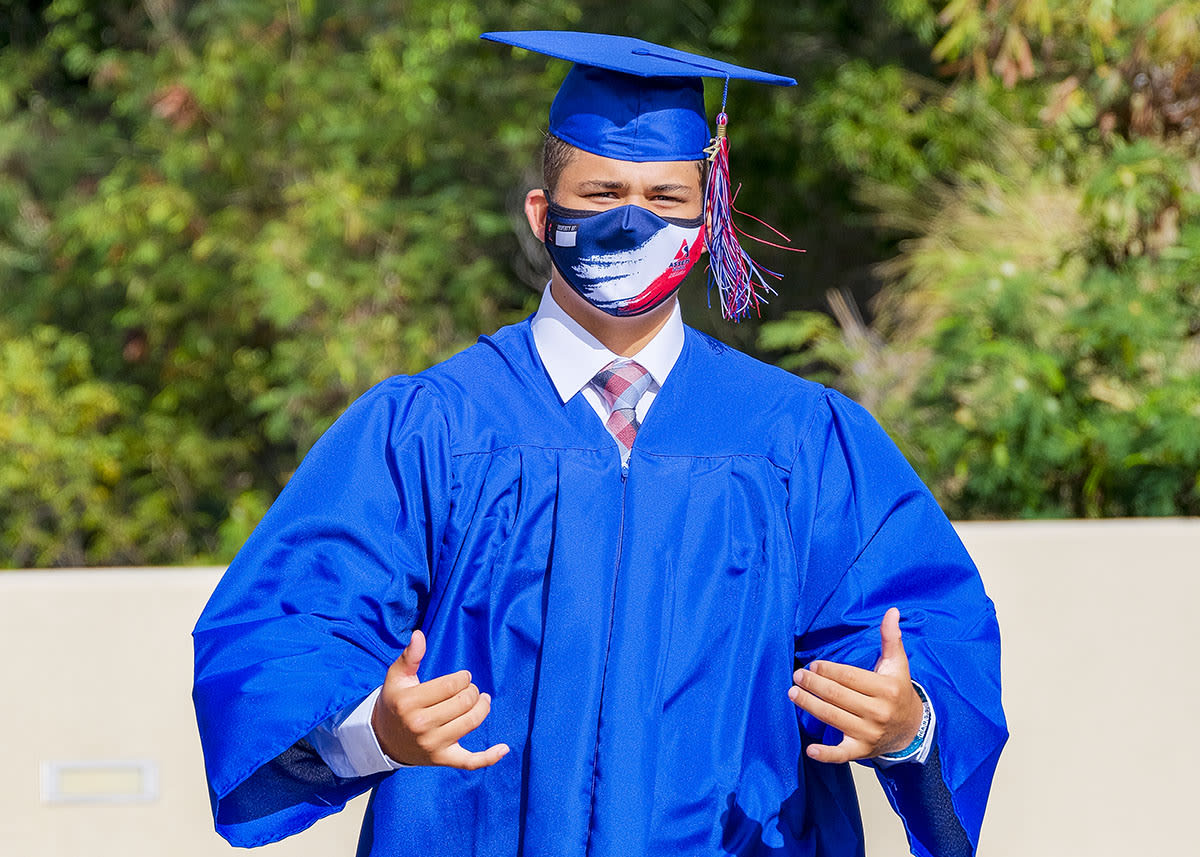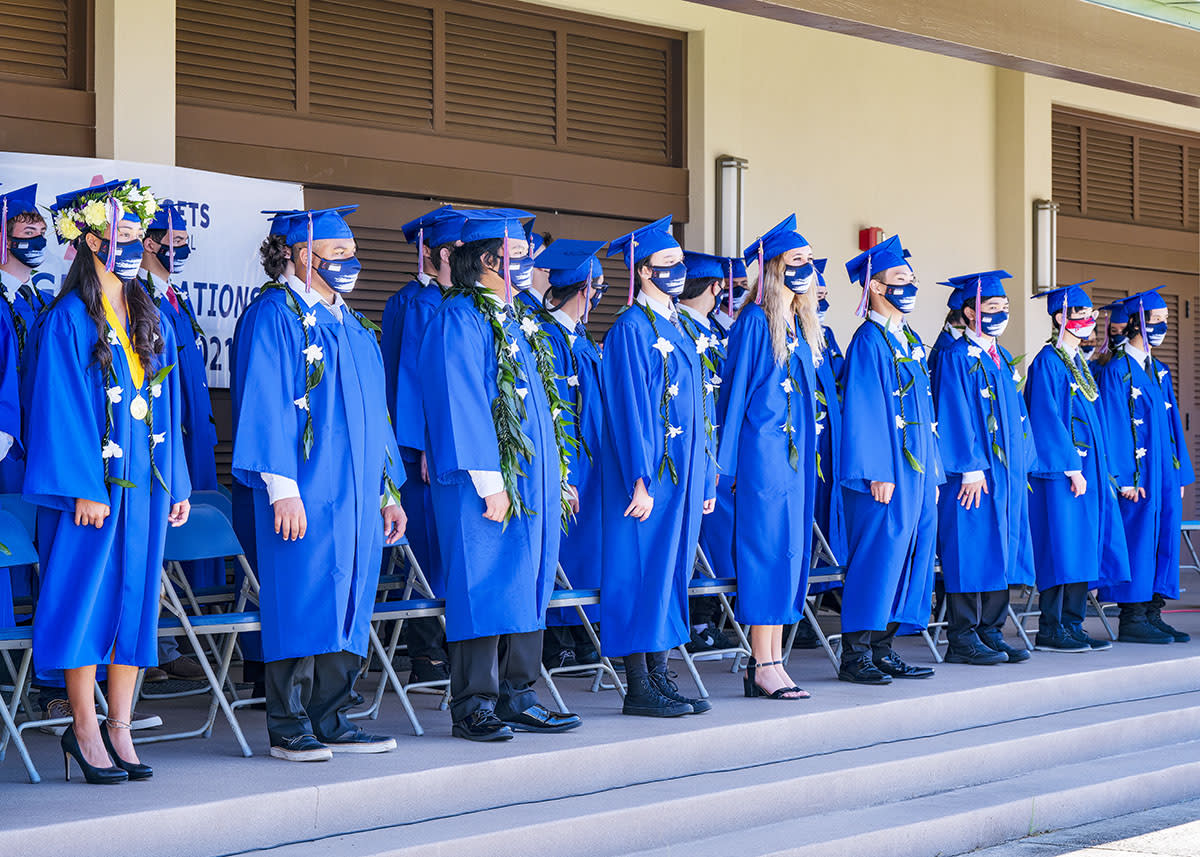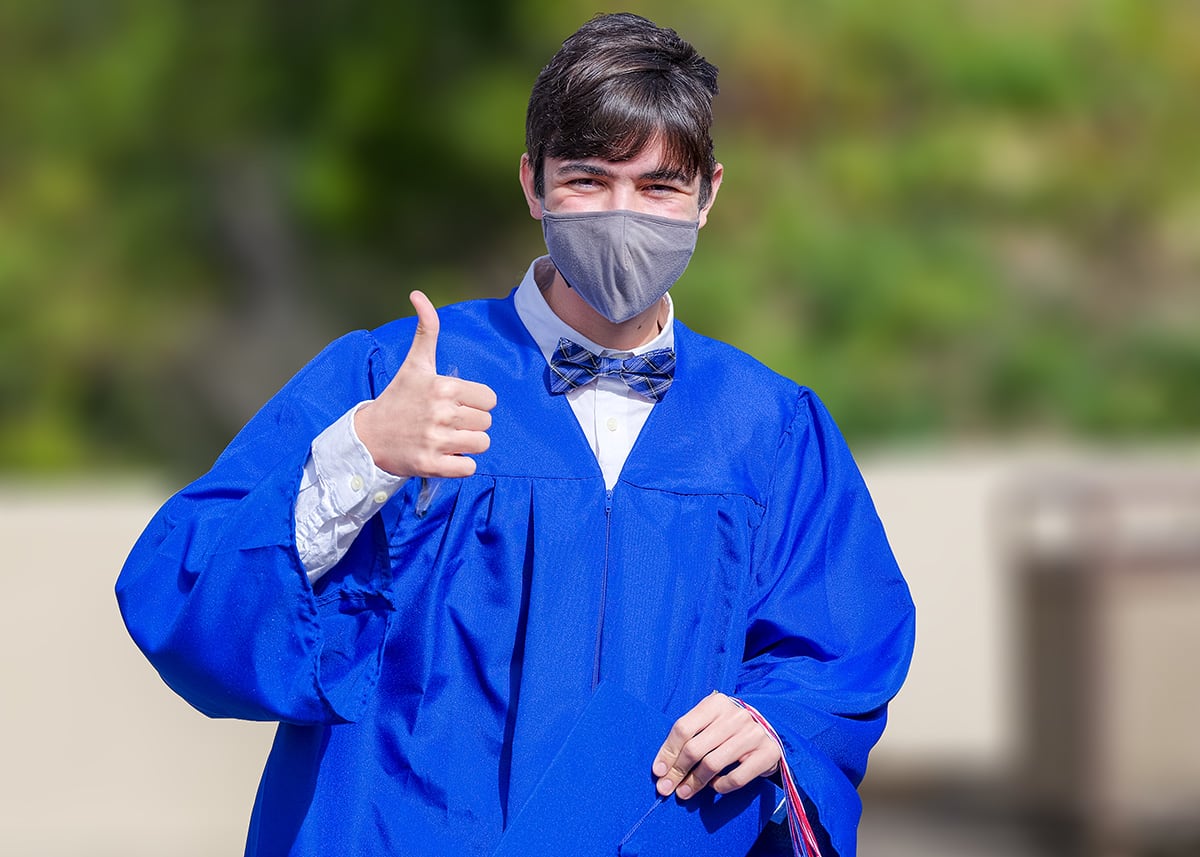 There is no better way to describe the Class of 2021 other than extraordinary. They are probably tired of hearing how resilient they are, because no one would have chosen the global circumstances that affected the end of their high school careers. This has been a group of extraordinary individuals all four years, and they truly rose to the challenges presented to them all the way through. The last year is just one of their many successful chapters.
At Assets, students are supported individually to create and implement their postsecondary transition plans, with their parents and guardians as supporters who provide important parameters. All students graduate with a plan for after high school and all are given the opportunity to pursue four year and two year college programs. The postsecondary planning process was impacted by the COVID-19 pandemic in many ways; most notably with regard to college entrance testing, which is no longer required for the majority of colleges and universities; and, even when used, is de-emphasized greatly.
The Assets program of offering a Guidance class for juniors and individual meetings for seniors was a structure that continued to work well, even in the pandemic, because of the high level of structured support we provide. Even as we offered PSAT, SAT and ACT this year, the demand for testing decreased because it really only made sense for students to test if that is a particular area of strength. With less testing going on, I had even more time to devote to individual meetings with students.
I am not a huge fan of averages and aggregate data to describe a group of unique individuals, but because some of the patterns may be of interest to our community, I will share some numbers from the class of 2021 regarding their postsecondary transitions. These numbers are fairly typical of Assets graduates, with one exception. Historically, a higher percentage of our graduates choose colleges and universities off-island. For many families this year, staying close to home became one of the parameters.
Congratulations to our 34 extraordinary graduates of Assets High School!
All students who were interested, (97%) 33 students applied and were admitted to a college or university;

94% plan to attend a college or university after graduation;

29% chose two year or community college programs either in Hawaii or on the continent;

65% chose four year colleges/universities;

41% chose a college or university in the continental US, 1 student chose a university in Europe;

6% of the students chose alternative plans for after high school (work, apprenticeship);

2 of the students planning on attending college have chosen to do a gap semester prior to enrollment;

And, 19 students from the Class of 2021 were offered scholarships, including 41 separate scholarships from either colleges or community organizations, together totaling $505,900.
Assets not only helps students get to college, but works to systematically equip students with tools for self awareness and advocacy that are known to be critical to postsecondary success for those with learning differences or giftedness. I am excited to see how the future of this class unfolds, and look forward to hearing of their stories of continued success when they come back to visit.
A heartfelt congratulations to all the students and families of the Class of 2021!
Graduates, please stay in touch with us by sharing your contact information and regularly checking in with us. We love hearing from you!
OUR #GREATMINDS WILL BE ATTENDING THE FOLLOWING SCHOOLS THIS FALL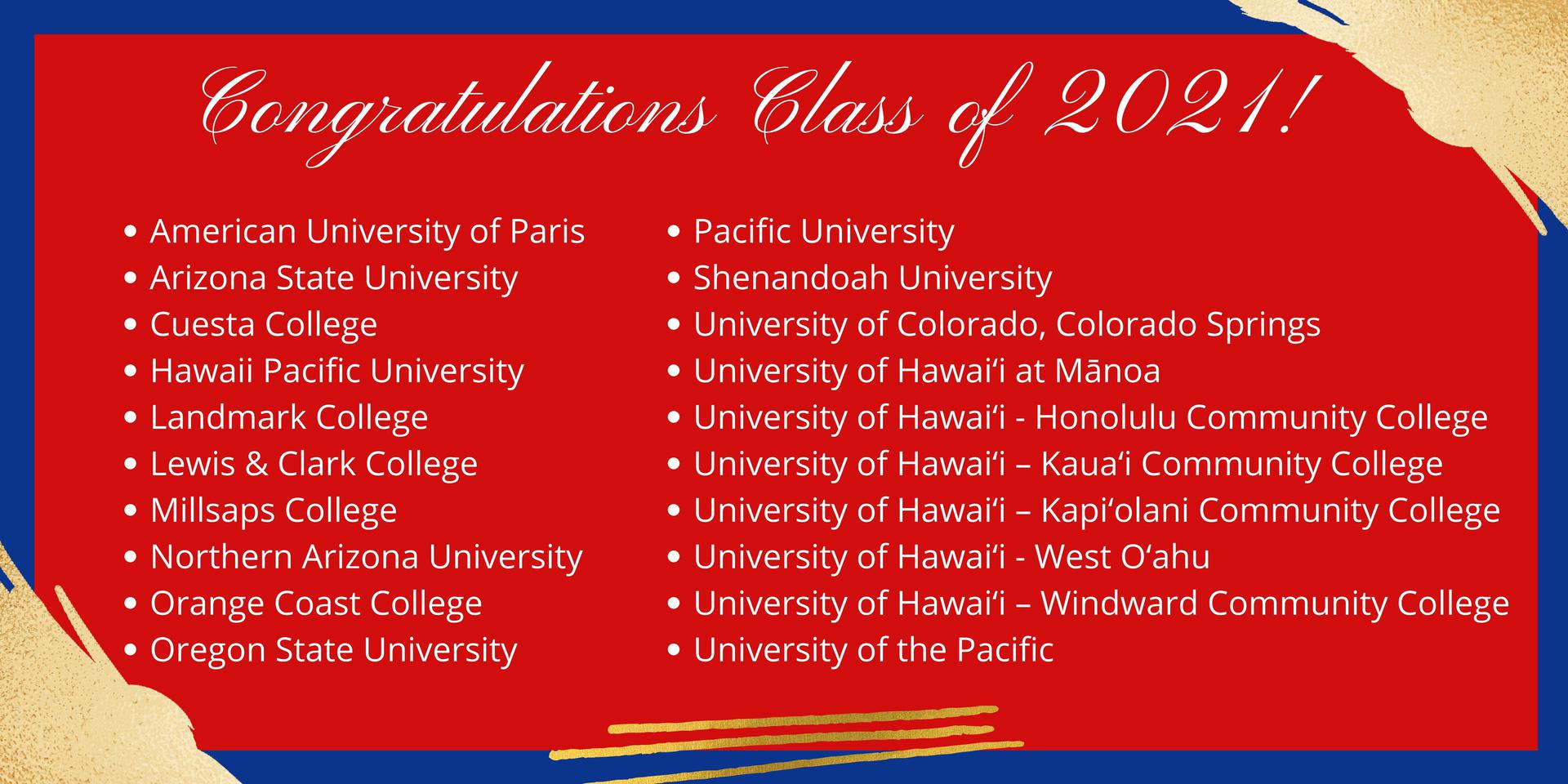 CONGRATULATIONS TO OUR 2021 AWARD WINNERS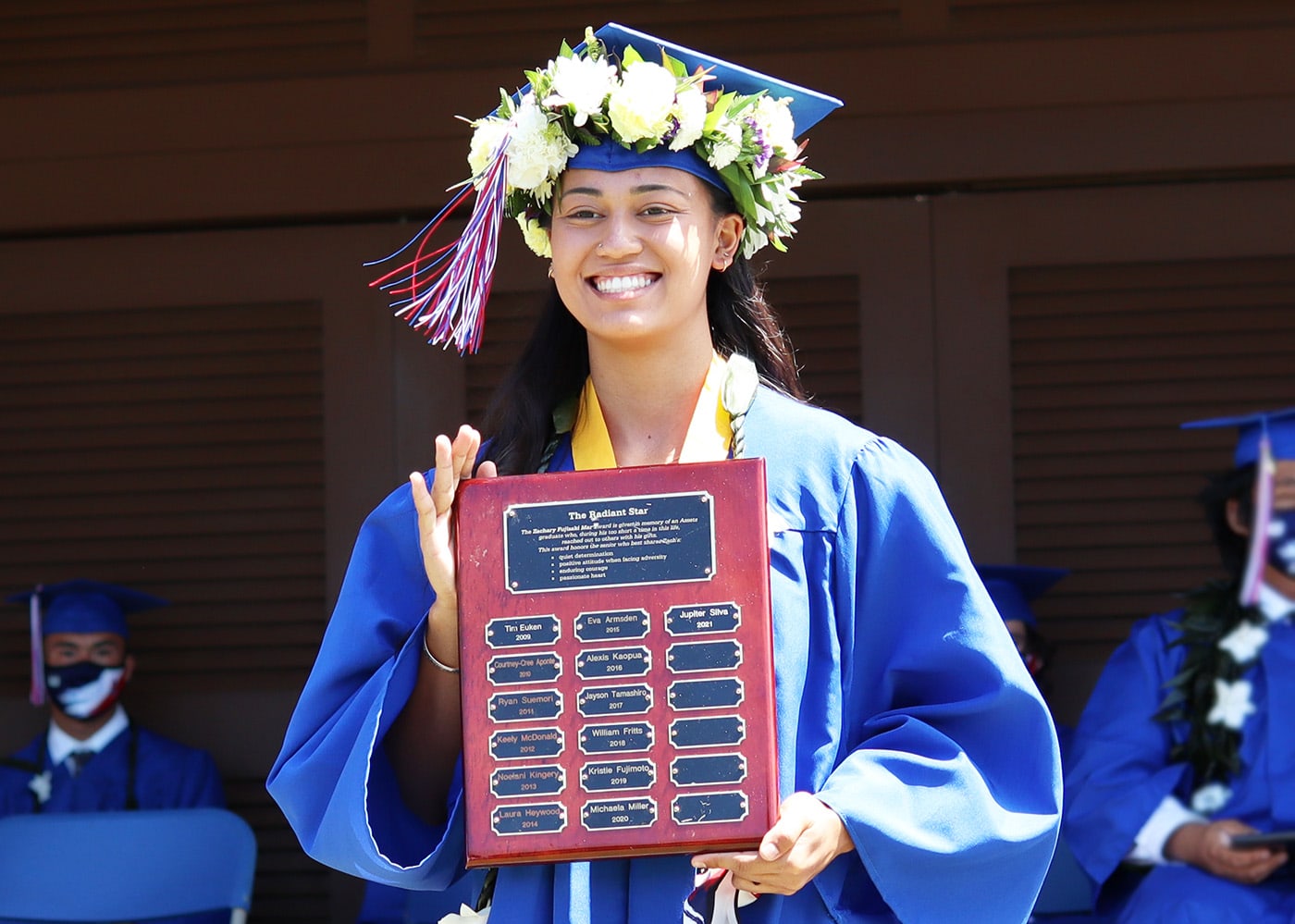 Jupiter Silva worked hard to be ranked the second in her class and delivered the salutatory address on graduation day. Additionally, Jupiter was honored with the Radiant Star award. This $5,000 scholarship, awarded by Dexter and Faye Mar, parents of the late Zach Mar (Class of 2008) is given to a college bound, graduating senior who best shares Zach's quiet determination, positive attitude when facing adversity, enduring courage, and passionate heart.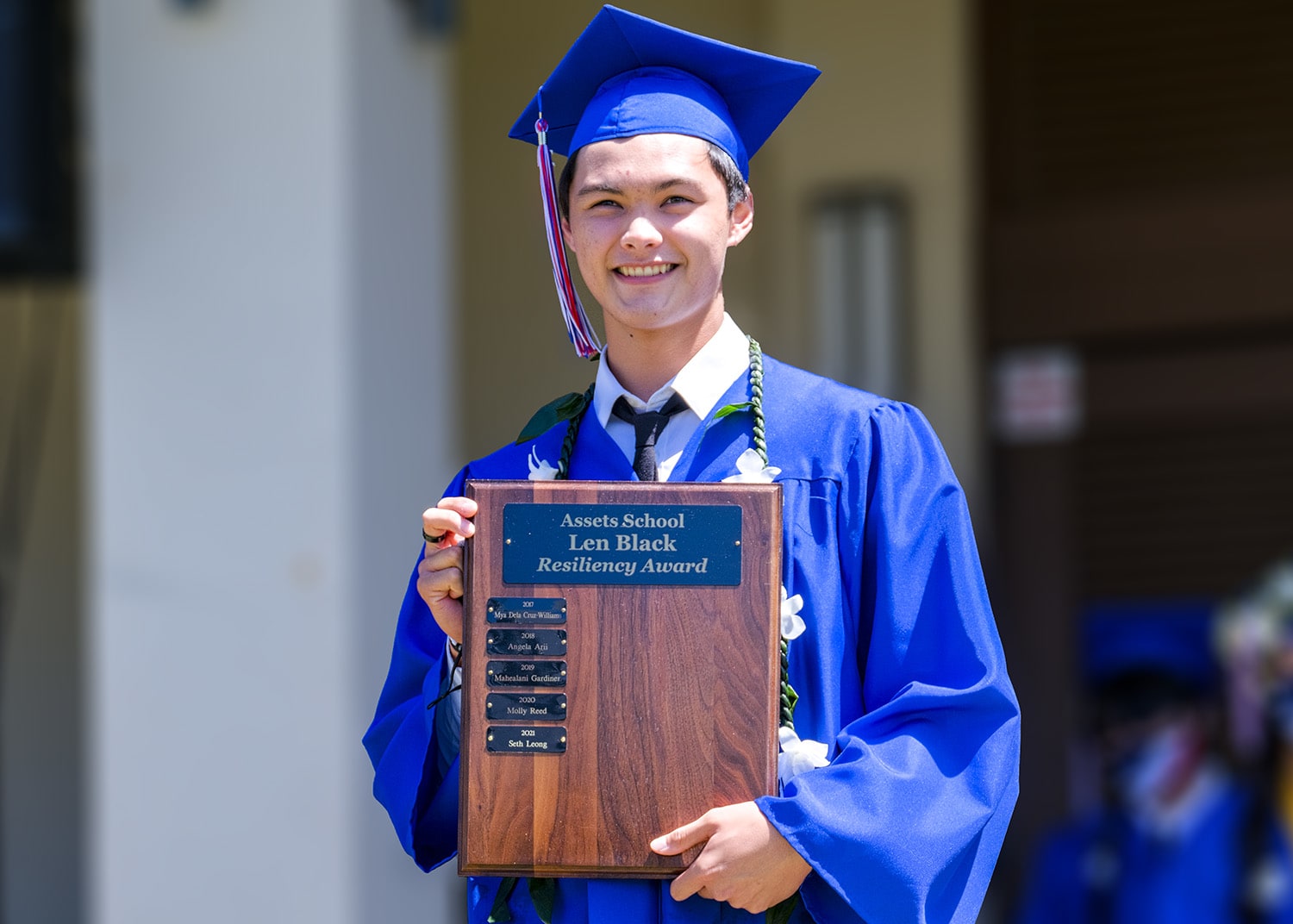 LEN BLACK RESILIENCY AWARD
Congratulations to Seth Leong for being awarded the Len Black Resiliency Scholarship. This $1,000 award recognizes a senior who demonstrates a strong capacity to recover quickly and learn from difficulties in life. They must be self aware and self-accepting, be able to leverage their strengths to overcome life's challenges, and have tremendous patience working through a trauma or crisis, while never losing hope or giving up on themselves.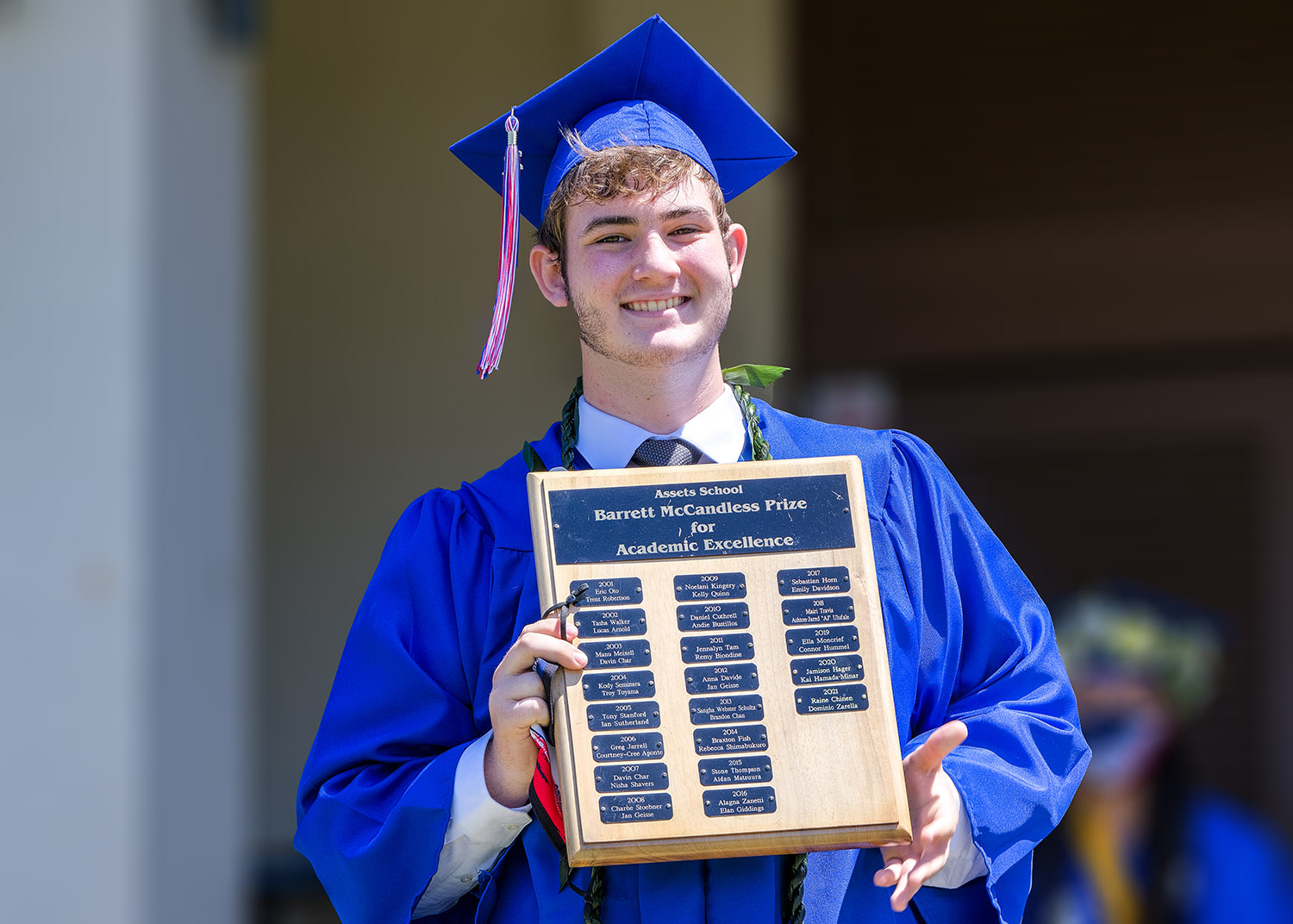 Twelve-year Assets student Dominic Zarella was the award winner of the Barrett McCandless Award. We are grateful to Barrett McCandless for her gifts of vision, intellect, and energy as well as her love for children who struggled to achieve in school. She is credited with founding the modern mission of our school. To honor Barrett's life and work, we have established this academic prize that is presented to the students who have distinguished themselves at Assets. They personify the qualities Barrett admired: perseverance, commitment to one's goals, and, of course, achievement.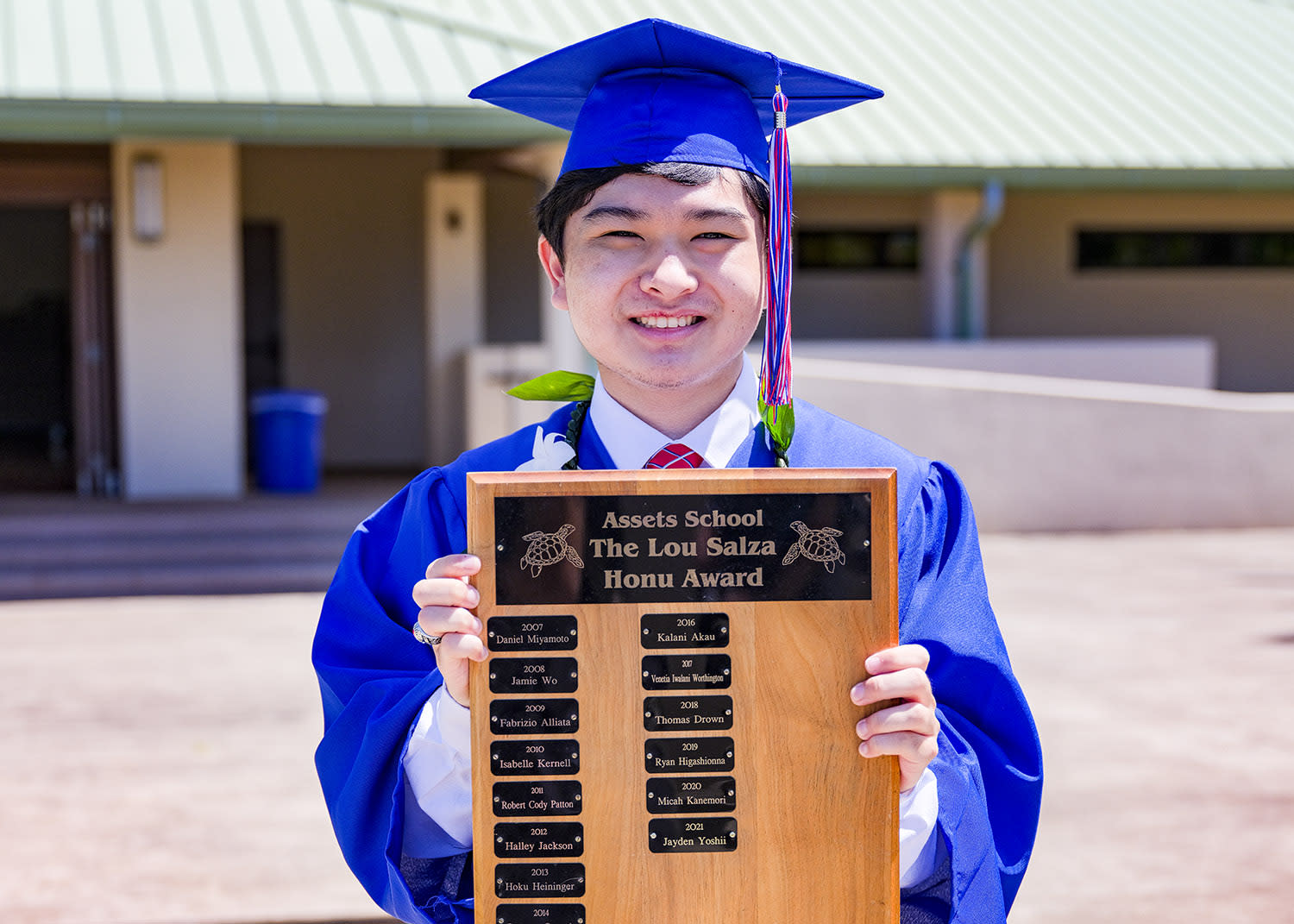 Jayden Yoshii is the award recipient of the Lou Salza award. Lou used the metaphor of the Honu, or Hawaiian sea turtle, to represent the terrific struggles of our children as they make their way through school. Once the ocean is underfoot, once the environment is changed, the Honu becomes a confident and competent adult.
The Lou Salza Honu Award recognizes the individual who has their toe in the water, ready to swim. This individual shares with Lou a life inspired by heart and guided by knowledge - an advocate who embodies the spirit of Assets.
MESSAGE OF GRATITUDE FROM AN ASSETS PARENT

YOUR SUPPORT OF ILLUMINATION IS HELPING NEARLY 50 STUDENTS WITH TUITION ASSISTANCE! THANK YOU FOR MAKING A MEANINGFUL DIFFERENCE.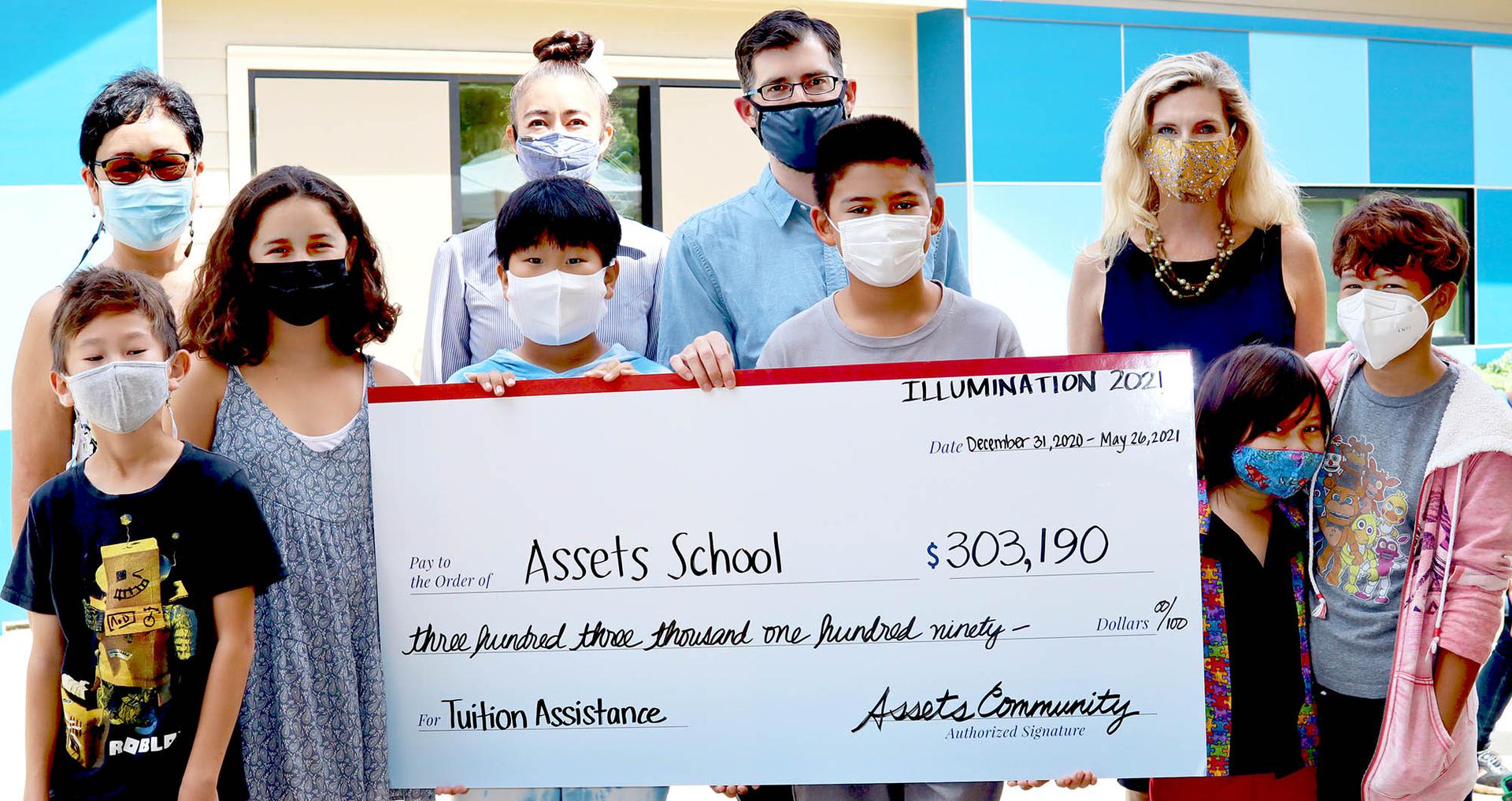 On the last day of school, May 26, a group of students from Ms. Kona's class joined (L to R) Admissions Director and Assistant Head of School Sandi Tadaki, Communications Director and Parent Relations Liaison Mahea Nakamura, Head of School Ryan Masa, and Vice President of Institutional Advancement Linda Jameson Myers for an Illumination 2021 check presentation. The children were excited and repeatedly said: "That's a lot of money!"
Thank You!
As we reflect on the completion of another amazing school year, we are humbled and tremendously grateful for the outpouring of support for our families in need. We extend our gratitude to all who donated to Illumination, our annual tuition assistance fundraiser, and to those who donated auction items or purchased fabulous items and experiences.
You helped us raise $303,190 for Illumination 2021! With an average tuition assistance award of $6,500, you helped us to support nearly 50 families.
While much more funding is needed to continue helping our families, we greatly appreciate your commitment and desire to make a meaningful difference in the lives of our keiki. Our Tuition Assistance Fund consists of support from foundations, individual donors, corporations, and fundraising so more money will be given to additional families during the upcoming school year. Our fiscal year ends on June 30, join us by wrapping up our 65th school year with any donation amount with a 6 and 5 ($6.50, $16.50, $26.50, $65, $165, $265, $650, and $6,500 for example).
ENJOY OUR K-8 VIRTUAL ART SHOW


This year we celebrated our 2nd annual Virtual K-8 Art Show. Faculty, staff, students and families have been treated to a collaboration of student masterpieces thanks to K-8 Fine Arts teacher, Ms. Christin Fox. Please enjoy the video that demonstrates how our students honed their artistic talents and used their creativity to showcase their brilliant minds.