THANK YOU TO OUR SPONSORS FOR MAKING A DIFFERENCE IN THE LIVES OF ASSETS STUDENTS BY SUPPORTING ILLUMINATION 2021!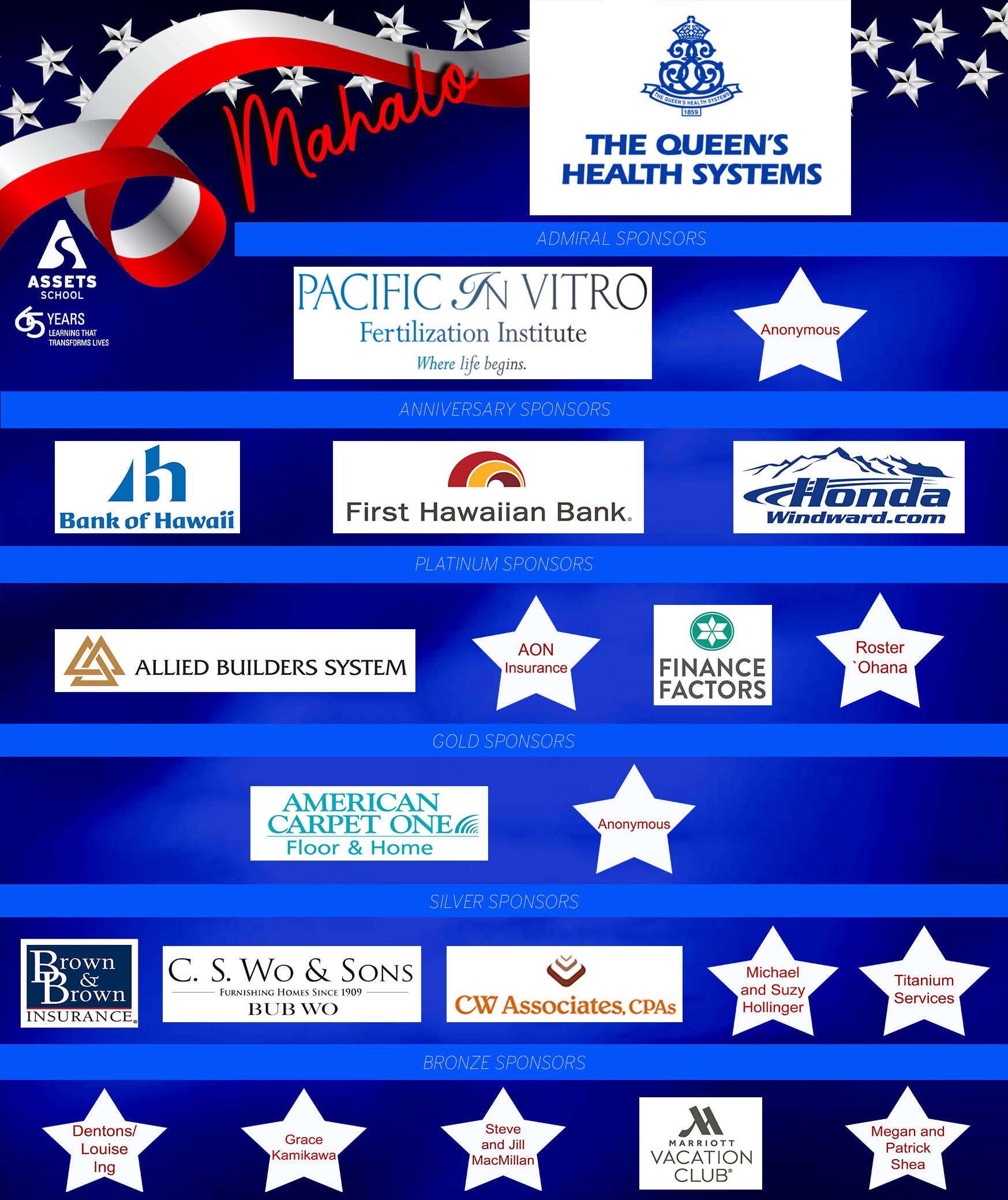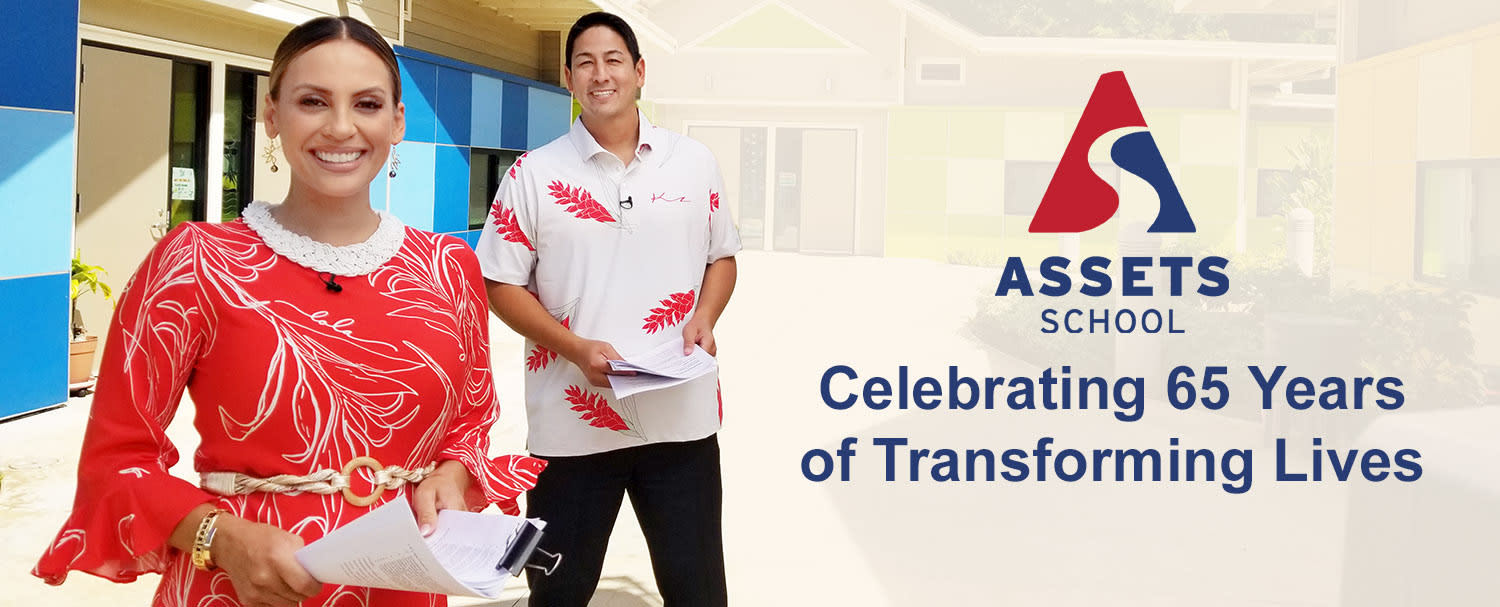 Hawaii News Now's McKenna Maduli and Steve Uyehara filming last month at Assets School's Harry and Jeanette Weinberg K-4 Village.
Announcing a first for our small school - Assets is producing a one-hour television show: "Assets School-Celebrating 65 Years of Transforming Lives." We are immensely grateful to The Queen's Health Systems for being our title sponsor and Pacific In Vitro Fertilization Institute for being a segment sponsor of our show. This information-packed presentation of Assets' educational offerings will be hosted by Hawaii News Now's McKenna Maduli and Steve Uyehara plus special appearances by Assets graduate Moani Hara '08 who you will learn more about in the alumni spotlight below. The show also features successful alumnus Landon Hamada '06 who has his Doctorate in Architecture, 'ukulele virtuoso Kapono Wong '20, and many other Assets students, graduates, parents, and faculty.
We'd like to extend a "mahalo nui loa" to all our Illumination 2021 sponsors who will be acknowledged during the television show. This is an exciting opportunity to share with our community at large the life-changing and important mission of Assets.
Mark your calendars for Wednesday, April 14th at 8 p.m. on K5, Saturday, April 17th at 6 p.m. on KGMB-TV (CBS) and Sunday, April 18th at 4 p.m. on KHNL-TV (NBC).
Please visit our website to learn more about Illumination 2021 or contact Linda Jameson Myers, Vice President of Institutional Advancement at lmyers@assets-school.org or by phone at (808) 440-3605, especially if you would like to learn more about being a segment show sponsor or Illumination 2021 sponsor.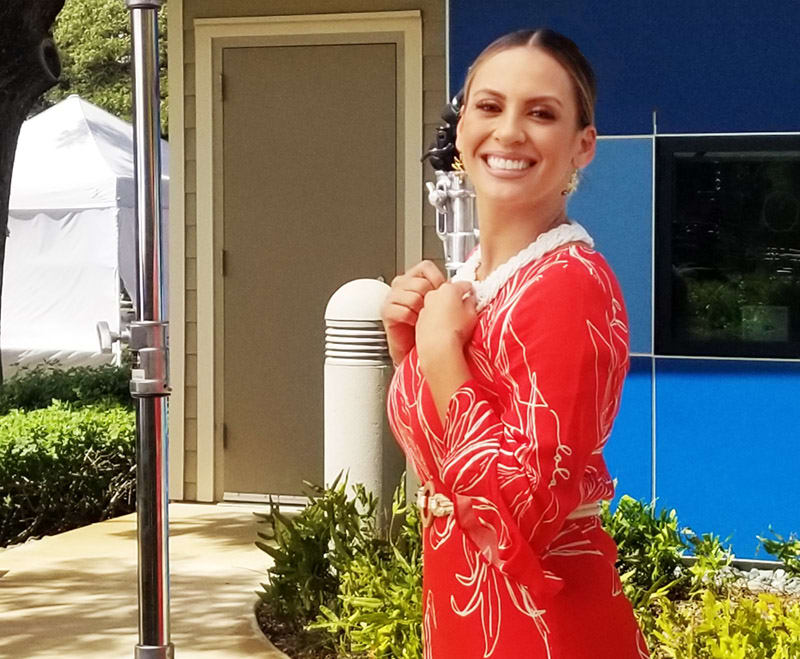 McKenna Maduli embraces her dyslexia and radiates her aloha spirit at the Harry and Jeanette Weinberg Village on February 23, 2021.

"I was honored to be asked to host the Assets School's 65th Anniversary show for many reasons. I attended Academy of the Pacific, which is now Assets' High School so it is really meaningful to me to help make a difference in the lives of children. I am so thankful for my education and the strategies I learned to channel my dyslexia into a creative and successful path including attending college and ultimately my career. It is really important to support Assets as it turns lives around and helps people like me to thrive. I am forever grateful."
-McKenna Maduli, Talk Story, Hawaii News Now
JOIN THE KIRKPATRICK FAMILY AND OTHERS BY DONATING
AUCTION ITEMS FOR ILLUMINATION 2021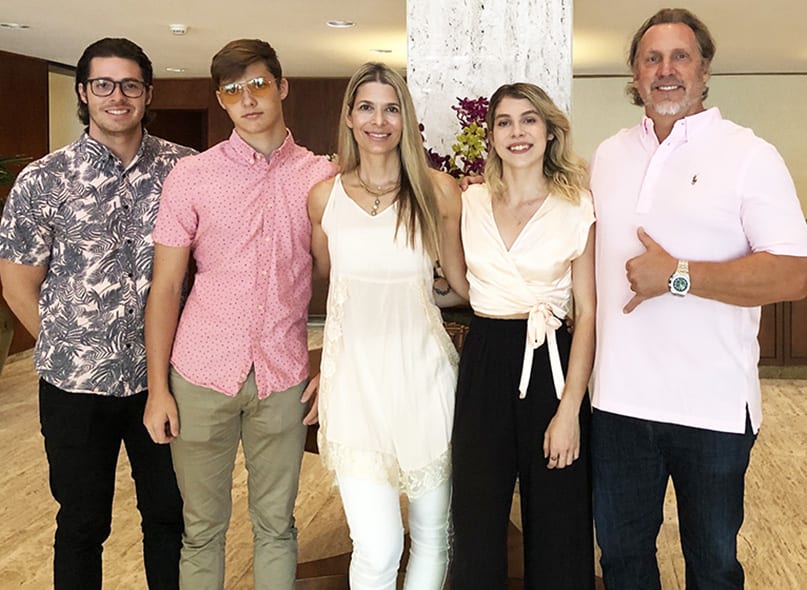 The Kirkpatrick Family: Grant, Blake '22, Vera, Olivia, and John enjoying time together.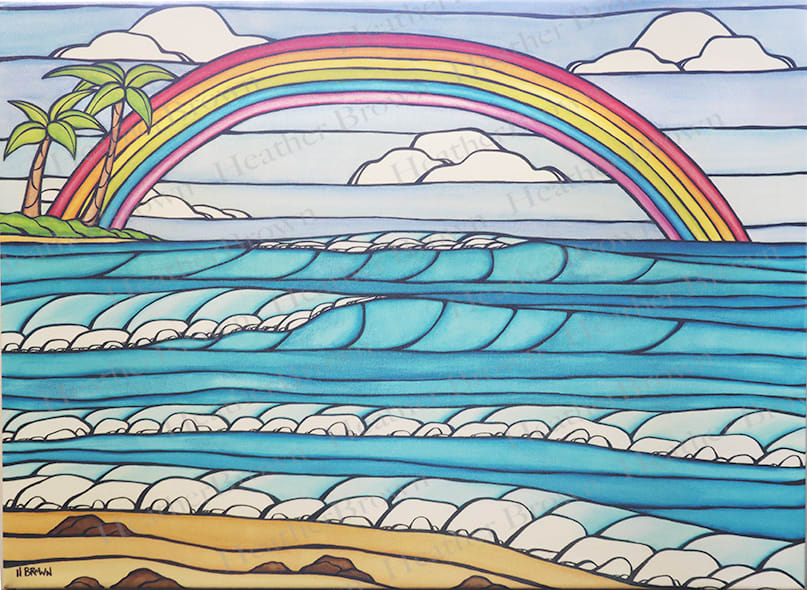 This limited edition giclée by North Shore, Oahu surf artist Heather Brown featuring a classic Hawaiian rainbow at the beach will be available in our Illumination auction.
"When you give back, you're contributing to another child's life - you're setting them up for success for life." ---Vera Kirkpatrick, Assets Parent of Blake, Class of 2022
John and Vera Kirkpatrick's lives have been forever changed since their son, Blake, began his journey with Assets School in the summer of 2014 when Blake was in 4th grade. "Assets is the best thing that has ever happened to our family," said Vera Kirkpatrick.
The Kirkpatrick's home and fine art gallery business, Genesis Galleries Hawaii, resides on the Island of Hawai'i (also known as the Big Island). It's been an incredible sacrifice to commute to Oahu so Blake can attend Assets, but one that Vera shares as something she needed to do - to go above and beyond for her son.
"At the end of the eight weeks of summer school, we could tell that Assets was the place for Blake," exclaimed Vera. "We saw a huge difference in him after just two months. Before Assets, he was the kid that didn't want to go to school. It's traumatizing as a parent when you have a child who is not thriving, not doing well, and you want to change that. So, initially we rented a car and a place to stay on Oahu just so that he could attend Assets. And, that was seven years ago. We finally made things permanent and bought a home. John is now living on Oahu with Blake and his siblings. Due to the pandemic, I come over once a month to spend time with the family. We look forward to every break and holiday so we can see each other."
Even though splitting their time between Oahu and Hawai'i island has had its challenges, Vera said that they would do it all over again if they had to.
"It's more than worth it - Assets has helped Blake navigate who he is, sustain his presence and balance himself as a person. The counselors taught him to talk about his feelings and treated him like a human being. This has helped him to communicate with his family. The teachers care about the person as a whole. Assets is setting people up for success for the rest of their lives. I would do anything, work all hours to make sure Blake could continue attending Assets. The school has been miraculous, a Godsend. It's such a unique and super special place. I am not going to have any fear sending him off to college," said Vera.
Vera shared that she and her husband donate artwork for the Illumination auction each year because they wish Assets could be available to everyone. "The outcome has been so positive. When you give back, you're contributing to another child's life - you're setting them up for success for life. It's the culture that makes the difference. Anyone can provide an education. Assets has created a whole person. Our entire family has benefitted from the Assets culture."

Our Illumination Virtual Auction is a fun and exciting way to raise funds for tuition assistance which helps our families in greatest need. We are still accepting donations through the month of March.
Items that have created buzz in the past include:
Jewelry and artwork

Rare and vintage bottles of wine

Experiences such as hotel stays, private parties, wine making, golf, sailing, scuba lessons, horseback riding and other outdoor activities

Dining gift certificates to hot restaurants

Signed or Sports memorabilia

Musical instruments such as keyboards, 'ukulele and guitars

Services such as auto detailing, music lessons, photography sessions, jewelry making, private chef, personal trainer, house cleaning or pet sitting
Donations can be dropped off at our school offices or contact us to arrange for pick up.
Mahalo for your continued support of Assets School!

SUCCESS IS A JOURNEY, NOT A DESTINATION
Moani Hara '08 is very grateful for her life's journey and the people who have supported her along the way.
It began with the elementary school principal and a couple of patient teachers who recognized that she was a struggling student and advised her parents to have her tested for dyslexia.
Her parents immediately sought out an education that fit her learning needs and arrived at Assets School the summer before sixth grade.
Moani is forever appreciative of the very warm welcome she received from former teacher Mrs. Sharon Kritzler and current teacher Mr. Jason Wagner when she first started. "Assets teachers made learning fun again and made me feel at home," said Moani. "In fact, to this day, I am still in touch with Sharon and she even named her daughter Moani, which speaks to the amazing bond that was formed over the years."
Moani fondly remembers the enormous playground and engaging enrichment programs on the K-8 campus. She is most grateful for the Assets Mentorship Program which gave her the opportunity to intern at Hawaiian Airlines for two years while in High School and where she formed a wonderful bond with the flight attendants while working with the In-Flight program in the front office.
"Assets helped me understand how I learn best. They taught me how to use different techniques to learn and to be organized. The teachers provided me with lots of real-life experiences and helped me to prepare for college. They taught me how to be a self-advocate and how to apply what I've learned to the real world."
Since graduating from Assets in 2008, Moani has been busy following her dreams. She had the incredible experience of being crowned Miss Hawaii USA in 2014, traveling around the country advocating for dyslexia awareness, modeling for print advertisements and commercials, spending time living in Los Angeles and finally coming home to work for Hawaiian Airlines. "Covid has changed a lot about the way that we do things and interact with others, and it's also given me the opportunity to find what I'm passionate about. I'm now working as a Fitness Instructor and fulfilling my dreams of helping others be their healthiest selves."


Again, join Moani and co-hosts Steve Uyehara and McKenna Maduli as they host a special show about Assets on Hawaii News Now stations on Wednesday, April 14th at 8 p.m. on K5, Saturday, April 17th at 6 p.m. on KGMB-TV, and Sunday, April 18th at 4 p.m. on KHNL-TV.

ENRICHMENT, LEARNING AND FUN AWAIT OUR #GREATMINDS THIS SUMMER!
Our K-12 summer programs are open for registration! Our plan is to provide in-person instruction, adhering to the same health and safety guidelines that have been implemented in our current school programs.
Please visit our website for more information about our K-8 programs and our High School programs.