MAYOR RICK BLANGIARDI PROCLAIMS JUNE 30TH AS ASSETS SCHOOL 65TH ANNIVERSARY DAY

Following a quaint Proclamation ceremony at Honolulu Hale on June 30, Mayor Rick Blangiardi spoke to each guest and learned from our students and parents what they liked most about Assets.
Assets School's Board Chair Kitty Yannone and Head of School Ryan Masa were presented with a Proclamation on June 30th by the Honorable Mayor Rick Blangiardi outside of Honolulu Hale before a group of Trustees (Russell Lau, Robert "Bub" Wo, Jean Hamakawa, Jill MacMillan), Assets' leadership team, faculty, alumni, parents, students, and friends. Mayor Blangiardi designated this day as "Assets School 65th Anniversary Day to recognize the creativity, enthusiasm, and initiative of the Assets School students, parents, teachers, faculty and staff for inspiring greater learning and achievement."
"This is very special to me," said Honolulu Mayor Rick Blangiardi. "First and foremost, I have been very aware of Assets over the years. I have had the opportunity to employ people who sent their children to Assets. Some moved to Hawaii just to go to Assets. It is a treasure for our community from the standpoint these are kids who learn differently then go on to do incredible things. It is the power of teaching and the people who recognize these needs. They all have my greatest appreciation and respect for all their hard work. I am very proud to provide a Proclamation celebrating 65 years of great teaching and great learning."
Assets School was founded by Max Templeman and military families for students who struggled in a traditional class setting. Through the years, Assets broadened its mission to include children who are gifted. As a not-for-profit school that started out educating just a handful of students, Assets now serves more than 300 students in Kindergarten through 12th grade annually. Assets provides a college-preparatory education in a nurturing environment with an average ratio of 8 students to 1 teacher.
"We are grateful to Mayor Blangiardi for recognizing the importance of Assets School and the outstanding curriculum the school provides for its students," said Kitty Yannone, Assets School's Board Chair. "One in five individuals has a learning difference; therefore, it is imperative that an Assets education is always an option for our keiki."
The Proclamation also recognizes Assets School's partnership with Kamehameha Schools to provide an opportunity for Native Hawaiian children who need the specialized education Assets offers. Kamehameha Schools reduces the financial barriers for many Native Hawaiian children annually. All Assets students in need of financial aid can apply for assistance.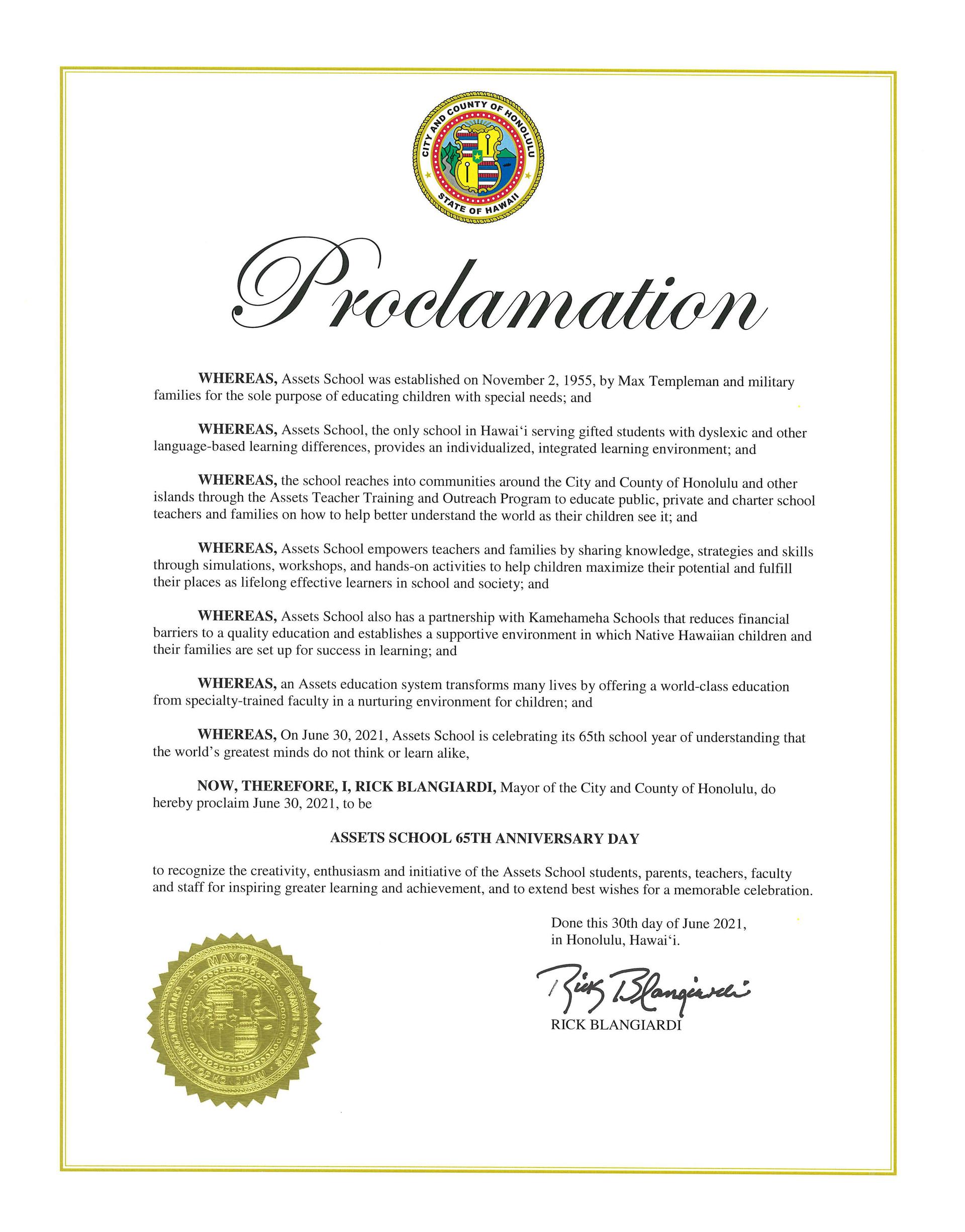 Assets 8th-grade student Tyler Lee laser cut an "Aloha" sign in maple wood and presented it to Mayor Blangiardi as a token of appreciation for recognizing the school. Assets' first and second graders also created a beautiful drawing depicting the sunflower garden, birds and rainbows often seen from the playground at the Assets K-8 campus.
"We are thankful for Mayor Blangiardi's Proclamation and appreciate his understanding of the life-changing work our faculty does daily to help children who learn differently succeed in life," said Ryan Masa, Head of School. "It is often hard for families to understand the journey of a student who is gifted, dyslexic, or learns differently. We teach our children to advocate for themselves and to embrace their gift. We are grateful to be serving our community for 65 years and appreciate the leaders before us to help us reach this special time in our school's history."
The ceremony was limited to 25 guests. We were happy to share this special day with some of our Trustees, Assets Assistant Head of School and Director of Admissions Sandi Tadaki, Assets High School Principal Nikki Hamai Sakai, Assets Vice President of Advancement Linda Jameson Myers, retired Academy of the Pacific Head of School Dorothy Douthit, retired Assets Head of School Paul Singer; Assets students Kennedy Bhattacharyya '26, Bailey Bhattacharyya '26, Tyler Lee '26, and Braden Lee '28; Assets Alumni Jupiter Silva '21, and Zander Waller '21; and parents, Beth Waller, Allyson Silva, and Alison Bhattacharyya.

ANNOUNCING NEW K-8 LEADERSHIP

We are excited to announce our new K-8 Principal will be Sungalina Lee!
Our search yielded over 50 applicants, included several rounds of vetting, and incorporated multiple interviews with select candidates. Through that process, it became clear that Sungalina's knowledge, philosophy, insight, and experience with children, particularly those who learn differently, made her the best fit for this time in the school's history.
Sungalina ("Ms. Lee") has been a Counselor for the past nine years at Assets. Prior to Assets, she served as a teacher, school counselor, therapist, and program director. She is a frequently requested writer and speaker locally, particularly on issues related to the social-emotional lives of children, parenting, and early childhood development. Sungalina earned her B.S. degree in Sociology and Linguistics from San Francisco State University and her M.S. in Educational Psychology from California State University, Northridge. I am excited for the wealth of expertise and care she will bring to this position and our community.
Please join us in congratulating Sungalina on her new role!
ASSETS ROBOTICS AWARDED $4,500 GRANT


We are pleased to share that the Assets Robotics Program was awarded the Moving Robotics Forward grant of $4,500 from Friends of Hawaii Robotics.The funds will be used to purchase new tools and equipment for the upcoming school year. Assets has one of the largest robotics programs among private schools with more than 40 students participating annually.
"Assets' innovative, creative, and energetic work has gone above and beyond; therefore, we are honored to support the school's remarkable students," said Friends of Hawaii Robotics President and Chair Lenny Klompus. "Over the last 15 years, Friends of Hawaii Robotics has been focused on creating opportunities in order to develop tomorrow's leaders."
This will be Assets' last grant award from Friends of Hawaii Robotics due to the not-for-profit closing its doors after supporting thousands of students and schools. "We have been so impressed throughout the years with nearly 9,000 students statewide and more than 500 teams," said Klompus. "Our work is complete and we are proud of everyone involved with supporting robotics and STEM education." Mahalo to Friends of Hawaii Robotics for supporting Assets over the years and making a difference in the lives of thousands of children who discovered their passion for technology and engineering through robotics.
WISHING YOU A SAFE AND FUN-FILLED SUMMER!