WELCOME TO THE 2021-2022 SCHOOL YEAR GREAT MINDS!

Spread the word and make your donation go farther - Give Aloha at Foodland starts in September
We are excited to participate in Give Aloha, Foodland's Annual Community Matching Gifts program! This fundraising event takes place this month and it's easy to participate.
Simply make a donation to Assets School at Foodland, today through the end of the month. Foodland will match a portion of your gift!
Here's how it works:
Go to any Foodland or Sack N Save store or place an online grocery order for curbside pickup or delivery at https://shop.foodland.com/.

Make a donation of any amount up to $249 at checkout.

Give the cashier/online order our organization code #77015

Present your Maikaʻi card to the cashier when making your transaction.

Review your receipt to confirm the donation amount and "Assets School" is correct.
We'll receive all donations made to us, plus our matching gift, in October. We greatly appreciate your support of Assets School!
We Welcome Three Outstanding Community Leaders to Serve on Assets School's Board of Trustees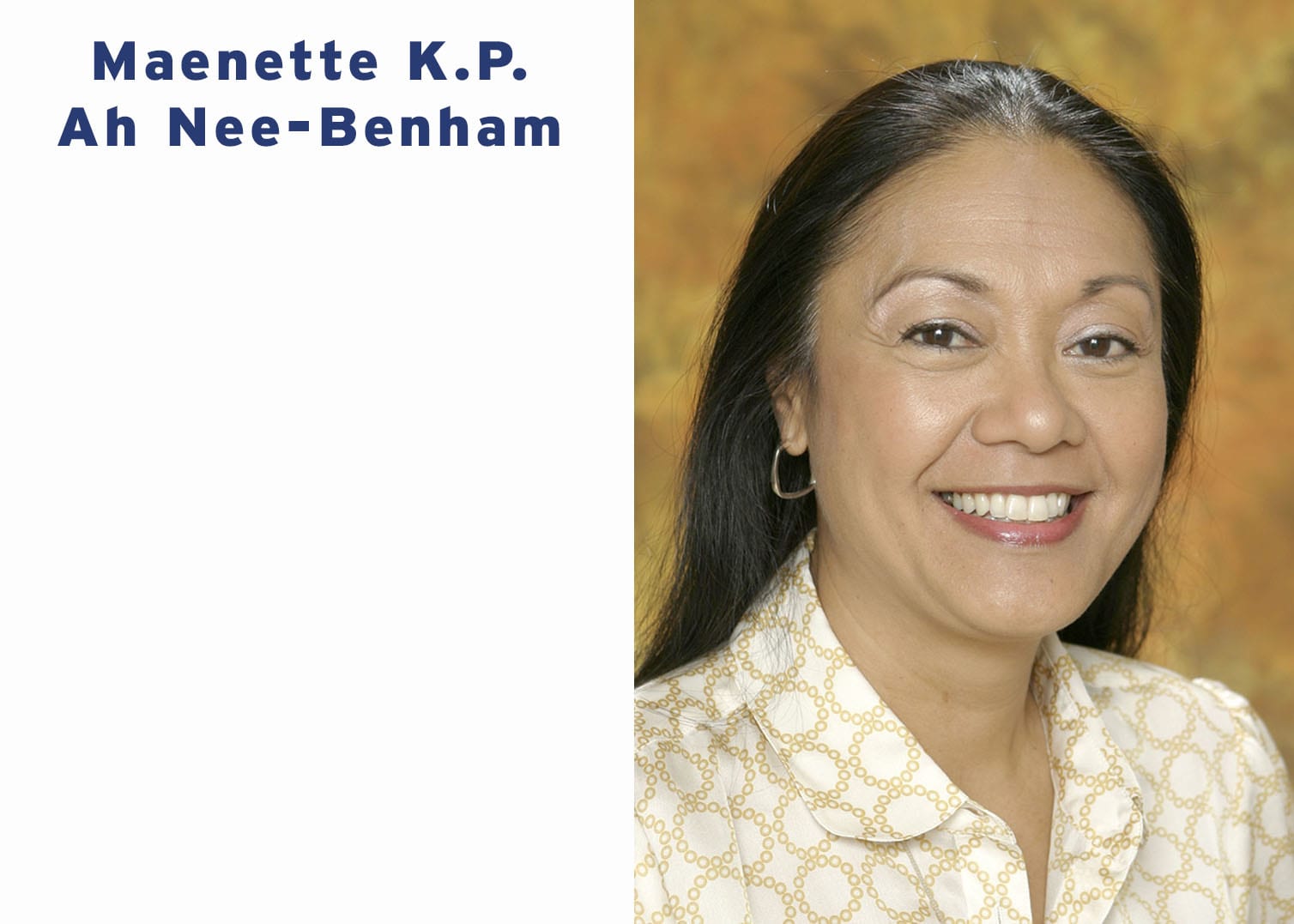 Maenette K. P. Ah Nee-Benham is a current Assets parent to Kaʻimi, Class of 2022. Maenetteʻs prominent position as Chancellor at the University of Hawaiʻi - West Oʻahu speaks to her knowledge and passion for learning and leadership and is attributed to 40 years of experience in education. Trustee Ah Nee-Benham is also a celebrated author, co-author, and editor of five books and numerous published articles, book chapters and technical reports. She is active with several other community boards and involved in local initiatives geared toward improving Indigenous communities.
"I am honored to join the Assets Board of Trustees. There's an ʻōlelo noʻeau, Hahai no ka ua i ka ululāʻau. Translated - Rains always follow the forest. The message of this pearl is that we must create purpose with others and live a life of meaning. Indeed the promise of Assets, the work is to provide our nā haumana (students) with the opportunities to create purpose and to live a life of meaning. I look forward to working with others to reach that goal." --Trustee Maenette K.P. Ah Nee-Benham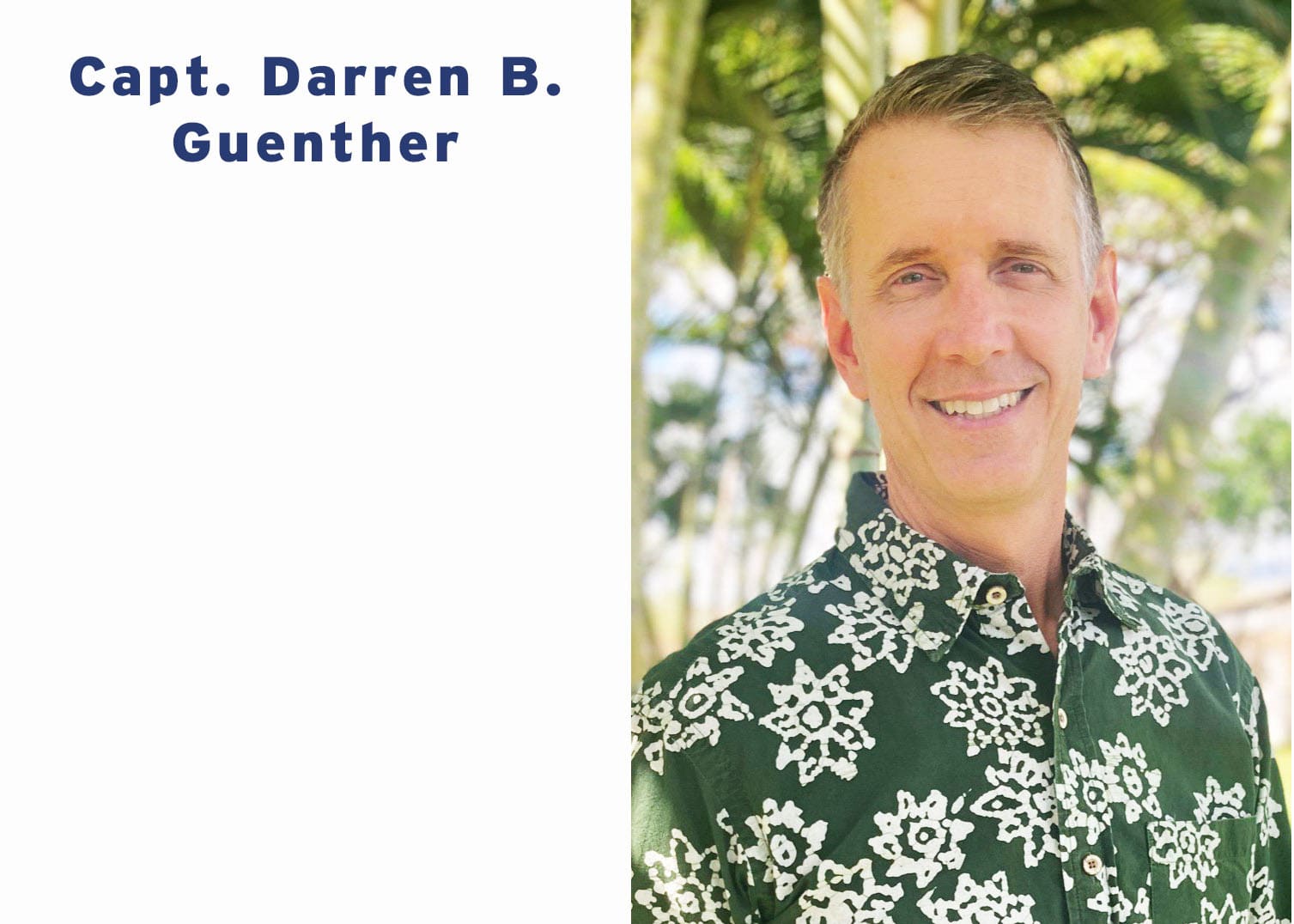 Captain Darren B. Guenther is a current Assets parent to Carsten, Class of 2029 and is the Chief of Staff for Navy Region Hawaii. He has served our country for the past 27 years, earning many distinguished awards throughout his career for outstanding achievements, service and leadership.
As a graduate of Punahou School, the University of California at Berkeley, the Naval War College and as a former National Security Fellow at the John F. Kennedy School of Government at Harvard University in Cambridge, MA., Trustee Guenther understands the importance of education and values the role it plays in a student's development.
"Assets School is meaningful, purposeful, and personal for our family. We've lived all over the world for the past several decades, and it took a return home to Hawaii to truly find a school that was a fit for our 5th Grader. I'm a believer in our faculty, staff, and supporters at Assets who have a heart for growing these keiki and helping them live their dreams to the fullest of their imaginations." --Trustee Capt. Darren B. Guenther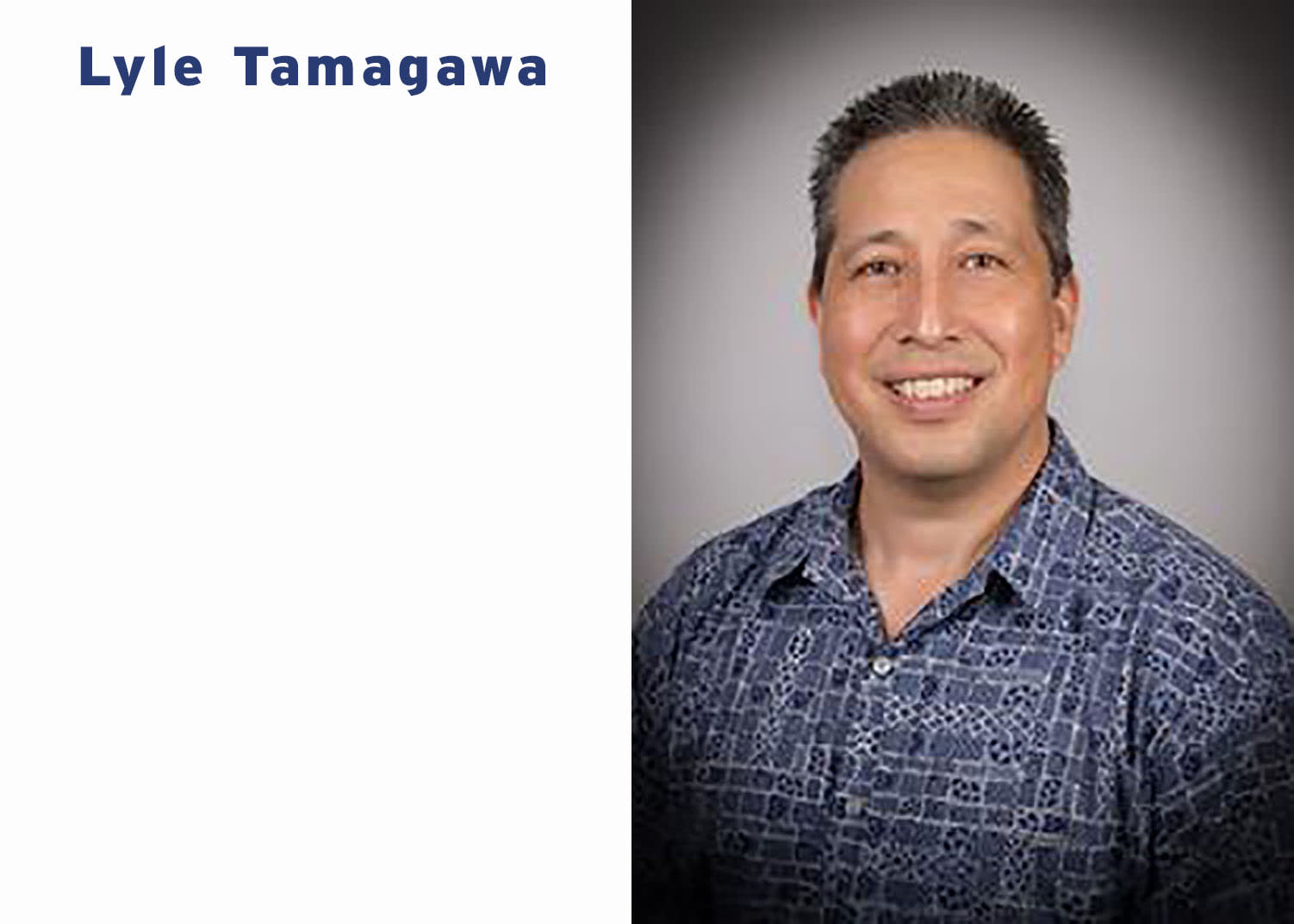 Lyle Tamagawa has more than 25 years of experience working in Hawaii's financial industry, specializing in Commercial Banking that contributes to sustained economic activity, job creation, tax revenues and a healthier community. Trustee Tamagawa is currently a Senior Vice President at Bank of Hawaii. His experience has provided a high familiarity with challenges and opportunities facing Hawaii's small to medium sized businesses and not-for-profit organizations. He is an active community member involved with youth sports and community development.
"As a spouse of an educator for nearly 25 years, I've always admired the dedication, passion, and countless hours of preparation that goes into the development of our students. It means so much to have an opportunity to be a part of an organization such as Assets School, which maintains strong leadership and fosters such a nurturing environment that makes a difference in our students and community. I am so excited to contribute and continue to expand the School's legacy of service and support." --Trustee Lyle Tamagawa

GOVERNOR DAVID IGE THANKS ASSETS SCHOOL AND OTHERS FOR VISIONARY LEADERSHIP AND FOR CREATING A NEW CULTURE OF INNOVATION
Governor David Ige announced Assets Schoolʻs award of $378,000 on Aug. 4, 2021 to create the Transforming Lives Center, the first private school-based full resource center on Oahu to provide comprehensive assessments of students who may be struggling in traditional settings or facing academic challenges because of the pandemic. The objective of the Transforming Lives Center is to help parents and students understand dyslexia, dysgraphia, dyscalculia, attention deficit hyperactivity disorder (ADHD), and executive dysfunction. The center will be equipped to evaluate at-risk students in-person or virtually. Early intervention will help in the statewide effort to reduce high school drop-out rates.
The Governor thanked Assets and the other awardees for visionary leadership and for creating a new culture of innovation for education in Hawaii. "Assets School's Transforming Lives Center builds upon the school's expertise and will help change the trajectory for students and their families. Early intervention to address learning differences provides a far greater opportunity for children to be prepared for college, accepted to colleges, attend college, then become a productive member of our workforce and community," said Gov. Ige.


"When a child is struggling, the whole family struggles," said Alison Bhattacharyya, mother of two students attending Assets School. "Governor Ige's commitment to early intervention and the Transforming Lives Assessment Center will be life-changing for all who are screened. Assets provided my children a reading test years ago and that's how I learned my children had dyslexia. My children were taught strategies to read and are thriving. I am grateful to Governor Ige for supporting Assets and embracing the need for early intervention of learning differences."
"We are honored to be selected by Governor Ige and his Emergency Education Relief Advisory Group," said Ryan Masa, Head of School at Assets. "We look forward to working with the 30 other awardees to create significant change in education. Our keiki are our future and this investment is extremely meaningful."
The Transforming Lives Center by Assets School will in time offer the following: psycho-educational assessments, attention deficit hyperactivity deficit (ADHD) screenings, reading screenings, speech and language assessments, assistive technology services, and executive function coaching and support. Some of the services will begin in 2022 and will be offered in phases.
"I applaud Assets for recognizing the need for a broad resource such as the future Transforming Lives Center, and I applaud Governor Ige and his team for making this investment in our students and families," said Dr. Philip Bossert, Executive Director of the Hawaii Association of Independent Schools. "Assets School has always been the authority in our state for educating Kindergarten through 12th grade students who are gifted, dyslexic or have other learning differences. The Transforming Lives Center will build upon Assets' past and present success of helping students in a profound way."
K-12 ADMISSIONS OPEN HOUSES ON SUNDAY, OCTOBER 24

Please join us for our first round of 2021 Fall Open Houses! We invite everyone who is interested in learning more about our K-12 programs.
Assets School is a place where our students are recognized and celebrated in a nurturing environment. Do you know any families that might benefit from our specialized and life-transforming program? Encourage them to register in advance for our Admissions Virtual Open House on Sunday, October 24, 2021.
Our High School session begins at 9:00 a.m. and includes information about our mentorship and college and career engagement programs. We are sharing information about our K-4 program during our 12:00 p.m. session and Grades 5-8 during our 2:30 p.m. session. All attendees will be provided with a program overview, virtual tour of the campus, and there will be a question-and-answer panel featuring current parents and students. Visit our website for more details and please remember to register!
Canʻt make it on October 24th? Our next session is on Sunday, November 21, 2021
Kindergarten - Grade 4 (8:30 a.m. - 10:00 a.m.)

Grade 5 - Grade 8 (11:00 a.m. - 12:30 p.m.)

High School (1:30 p.m. - 3:00 p.m.)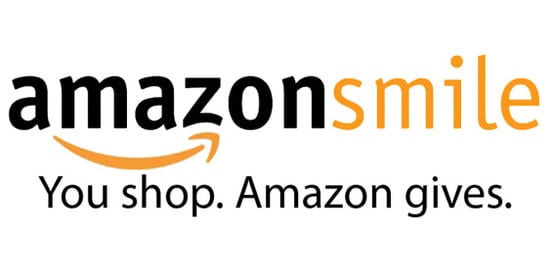 Did you know that you can support Assets School all while doing your regular shopping on Amazon?

When you shop at smile.amazon.com and designate 'Assets School' as your charity, the AmazonSmile Foundation will donate 0.5% of your eligible purchases to our school.

These donations help to support our greatest and most urgent needs. We greatly appreciate your help; every penny counts!
We created a quick step-by-step guide on how to select Assets School as your charity of choice on Amazon. Check it out here.
Mahalo for supporting Assets School!
ASSETS PARTICIPATES IN 2021 HAIS VIRTUAL EDUCATION FAIR

Mark you calendars: Assets School is participating in the Hawaii Association of Independent Schools (HAIS) Virtual Education Fair on Saturday, September 18, from 9:00 a.m. - 2:00 p.m.
The HAIS Education Fair offers a line-up of independent schools and guest speakers giving parents a unique and free opportunity to have all their education questions answered in a central location.
Highlights:
Meet preschool through high school admissions teams

Inquire about entry requirements

Learn about affording private school

Informative breakout sessions
For more information, please call 808-973-1540.
Complete the short REGISTRATION FORM to receive access to the online event and event information!